Maranda Kitchingham, M.A.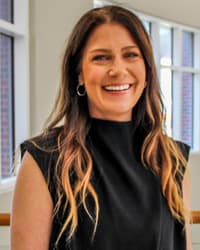 Maranda Kitchingham, M.A.,
Director of Outreach and Special Projects
School of Business
Business Staff
Biography
Education
M.A., Nonprofit Leadership, Oklahoma City University, 2018
B.A., Journalism, University of Central Oklahoma, 2001


With a passion for building collaborative relationships, Maranda's work is centered on forming new and growing existing corporate business partnerships to create educational and internship opportunities for the business school. Since 2012, she has provided direction over communication and branding strategies to reach prospective students through content creation, social media, video and photography, signature event planning and execution.
With over 20 years of branding experience, Maranda regularly speaks at conferences and events, most recently speaking at the 2022 Women in Leadership Conference in Oklahoma City and the upcoming 2023 OKC Thunder career fair, S.T.I.R. She enjoys speaking to high schools and non-profits in the OKC metro area.
Contact Information
MSB 300D
Meinders School of Business

Oklahoma City, OK 73106