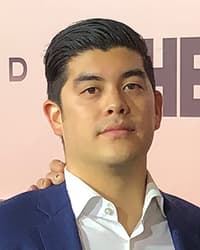 Mark Morikawa,
Manager at MGMT
MFA Screen Acting Guest Lecturer
Biography
Mark Morikawa began his career in the entertainment industry in 2013 after graduating from Elmira College in Upstate NY. A talent manager at MGMT. Entertainment, he started as an intern and quickly moved up the ranks under the tutelage of company founder, David Schiff.

Morikawa has worked closely with a wide array of actors, musicians, and stand up comics such as Chloe Bennet, Kevin Bacon & Sosie Bacon, Jeff Bridges, Clémence Poésy, Casey Frey, Nick Colletti, Ethan Hawke, Bryce Vine, Clifton Collins Jr., Katharine McPhee & Amandla Stenberg.

Holding a focus in Film & TV talent, his interests crossover to sports, music, and digital platforms in a constantly changing entertainment landscape. His previous work experience includes stints at Jennifer Lopez's NuYorican Productions, and as an analyst to Magic Leap advisor, Mark Curcio. A former college hockey player, Mark is an avid sports fan, holding season tickets for the LA Rams and LA Kings.