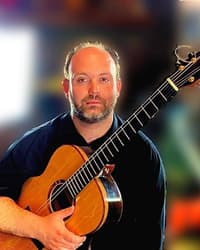 Matthew Denman,
Assistant Professor of Guitar
Music
Instrumental Music
School of Music
Biography
Matthew Denman is a Pepe Romero String Artist, the Assistant Professor of Guitar at Oklahoma City University, and the director of Guitar at Classen School of Advanced Studies. He directs the Celedonio Romero Guitar Institute and has served as the Director of Education for the Guitar Foundation of America.

His programs have won three awards from the Guitar Foundation of America, and he is one of three recipients of the GFA/Augustine Award for Excellence in Guitar Education. He is also mentioned twice in Building an Award-Winning Guitar Program by Bill Swick and published by Oxford Press.
Matthew's students have won top prizes at many top tier competitions including the Eastman Concerto Competiton, the GFA ensemble competition, the Haire Classical Guitar competition, etc. Alumni of Matthew's programs have gone on to have successful programs in music and other disciplines. He has taught masterclasses at several prestigious institutions of learning including Beijing Conservatory, San Francisco, and many others.

Matthew is a guitarist, composer, and songwriter who has toured in Asia, Europe, and the US. He has often been a featured performer and conductor for music festivals. Matthew's music is published by Les Productions d'OZ.

Students can audition to study with Professor Denman collegiately at Oklahoma City University and pre-college at Classen School of Advanced Studies.
"He is a rare and special individual, and we are fortunate that he has chosen to devote his substantial talents to classical guitar and educating our young people."
Matthew Hinsley, Executive Director of the Austin Classical Guitar Society
"Matt is a very unique spirit, a truly gifted musician and teacher who displays an enormous desire to help others grow and reach their own potential. So rare this quality is, and so very inspiring to watch him instruct, advise, encourage, and just genuinely care about the musical growth of others."

Chuck Hulihan, Guitar Summit and Orchestras Director, Guitar Foundation of America
"Our dear disciple, friend, magnificent human being, and extraordinary musician and teacher, Matt Denman"
Pepe Romero

Contact Information
A211
Bass Center

Oklahoma City, OK 73106