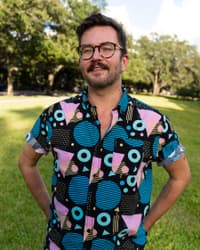 Dr. Matthew Jones,
Assistant Professor of Musicology
Music
Musicology
School of Music
Biography
I am a musicologist whose work explores the intersections of LGBTQ+ culture, politics, and music, especially in popular music and music video, music and disability, and music and HIV/AIDS. I received my PhD in musicology from the University of Virginia in 2014, and I also hold a master's degree in musicology/ethnomusicology, and graduate certificate in Women's Gender, and Sexuality Studies from the University of Georgia.
My first book, Love Don't Need a Reason: The Life and Music of Michael Callen (Punctum Books, 2020) chronicles the life, music, and activist work of Michael Callen (1955-1993). One of the first gay men to be diagnosed with immune deficiency (before the term "AIDS" had been invented, or HIV discovered), Callen was a trailblazing author, activist, and musician whose accomplishments include co-authorship of one of the first safe-sex guides and the AIDS Self-Empowerment manifesto The Denver Principles; founding several important early AIDS activist organizations; and a remarkable body of music he wrote and recorded as a solo performer and as an original member of queer a cappella group The Flirtations. Based on ten years of archival and oral history research, my book examines Callen's life, from childhood in rural Ohio to the national stage of LGBTQ+ politics, and reclaims his place in LGBTQ+ history.
My second book, How to Make Music in an Epidemic: Popular Music-Making During the AIDS Crisis, 1981-1996 (forthcoming, Routledge) interrogates the way Anglophone artists responded to HIV/AIDS through their art as part of fundraising efforts for AIDS service organizations, as a form of public health pedagogy, and as what Ann Cvetkovich calls "an archive of feelings," that is, a repository for the grief, anger, love, and joy that was part of the vibrant arts-based activist response to HIV/AIDS.
My interest in music and HIV/AIDS led me to the nascent field of studies of music and disability. My essay on "Crip Virtuostiy" in the music of Joni Mitchell appears in Joni Mitchell: New Critical Readings (Bloomsbury, 2019). My notion of crip virtuosity challenges ableist assumptions about the performing body and invites deeper engagement with the ways that embodiment influences musical performance. I am also in the beginning stages of a monograph about Joni Mitchell's music after 1980.
I am also an active musical director and vocal coach, having worked with regional and community theaters in Virginia, Georgia, and Texas, and I served as artistic director of Pride Chorus Houston, the city's LGBTQ+ choir.
Contact Information
FA320
Fine Arts Building

Oklahoma City, OK 73106