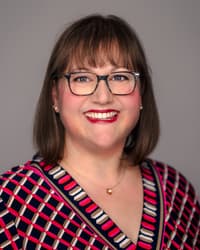 Megan Hornbeek Allen,
Executive Director of Alumni Engagement
University Advancement
Alumni Engagement
Biography
Megan Hornbeek Allen joined OCU as the director of Alumni Engagement in December 2018. Megan has worked in higher education and nonprofit administration for 13 years. She brings a wealth of experience in higher education administration, student and donor relations, and nonprofit fund management. She also brings an expertise in program development, public speaking, donor stewardship, and cultivation of relationships with key university constituents.
Megan worked in various roles for the Oklahoma City Community Foundation from 2013 to 2018. Prior to that, she was a registrar for Oklahoma City Community College and for the Boston University School of Theology.
In 2020, Megan was awarded Oklahoma City University's Extra Mile Award for her significant contribution to community engagement and service. In 2021, she was nominated by the Oklahoma City University chapter and initiated into the Phi Kappa Phi Honors Society in recognition of her scholarly distinction as an alumna and staff member.
Education
MA Theological Studies 2011, Boston University
MA Higher Education Administration 2005, Boston University
BA Religion 2003, Oklahoma City University
Contact Information
Room 301
Ann Lacy Admissions & Visitor Center

Oklahoma City, OK 73106