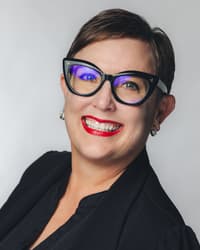 Melanie Shelley,
Executive Director, Professor of Arts Management
School of Dance & Entertainment
Dance Leadership
Dance Directors
Biography
Melanie Shelley, Executive Director and Professor of Arts Management, has served the Ann Lacy School of American Dance and Entertainment in many capacities. Her wide-ranging entertainment industry experiences include arts administration, production management, dance performance and instruction, choreography, ticket office management and costume design. She is dedicated to providing student experiences, promoting Oklahoma City University dance and entertainment business curriculums as degrees for life, community engagement boosting connections with prospective students through outreach events, and building partnerships.
In fall 2022, Shelley fostered a promotional agreement with Stagestep Flooring Solutions to be Oklahoma City University's official tap board provider, which resulted in national ad placements and a video of 100 OCU students tap dancing in front of OCU's Administration Building circulating on social media. Fall 2022 also brought a collaboration with OCU's Physical Therapy Program to assess incoming students and provide physical therapy exercise recommendations or medical referrals as needed.
Shelley served as Associate Dean of the Ann Lacy School of American Dance and Entertainment from 2007 to 2022, during which time she enjoyed her role as Student Success Coordinator and academic advisor for Entertainment Business students. Her roles with OCU's American Spirit Dance Company include Production Stage Manager and Company Manager from 1987 to 1998, Costumer from 1994 to 2014 and Choreographer from 1988 to 2005. She was the first director of the OCU Pep Dancers and served a number of years as the Spirit of Grace Liturgical Dance Director.
Shelley's choreographic credits outside of the American Spirit Dance Company include the Sooner State Games opening ceremony, regional theatre, productions of the Oklahoma Opera and Music Theater Company and fashion shows, including the Seventeen Magazine Model Search. Her choreography has been performed both in the United States and internationally, in Beijing and Taipei, Republic of China, and her costume designs have been included in the New York City Toy Show.
She was active with Lyric Theatre of Oklahoma for many years serving as costume shop supervisor, ticket office manager and assistant choreographer for On Your Toes. Her dance performance credits include concerts with Dinah Shore, Marie Osmond, George Burns, Bob Hope and Marilyn McCoo.
Shelley has been named to Who's Who Among America's Teachers for multiple years, was named Oklahoma City University's Exemplary Teacher of the Year for 2000, and served as Faculty Fellow and Interim Chair of the Center for Excellence in Teaching and Learning for Oklahoma City University's Academic Affairs Office in 2006-2007. In 2013, she received the CETL Distinguished Service Award in recognition of her work and dedication to Oklahoma City University. Shelley was awarded the Distinguished Alumni Award from the Ann Lacy School of American Dance and Entertainment in 2014 for excellence in higher education administration, arts management, teaching, stage management and production management. She is a member of Phi Kappa Phi, Blue Key National Honor Society, and was a Rhodes Scholar Nominee.
Contact Information
165
Gaylord Center

Oklahoma City, OK 73106