Meredith A. Wegener, LL.M, J.D.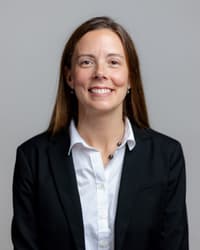 Meredith A. Wegener, LL.M, J.D.,
Professor & B.C. Clark Jr. Chair in Legal Studies, Dir. Graduate Energy Programs, Chair, Mktg & Mgmt
Marketing & Management
Energy Management
Biography
Education
LL.M. New York University School of Law
J.D., University of Oklahoma College of Law
B.A., Trinity University
Areas of Expertise
Professor Wegener teaches in the Energy Management, Energy Legal Studies, MBA and BBA programs. The intersection of law, energy and policy serves as the primary foundation of her research agenda. For example, her article, Drilling Down: New York, Hydraulic Fracturing, and the Dormant Commerce Clause, examines the issues surrounding unconventional drilling for shale gas in New York and the national implications as seen through the lens of the United States Constitution. Professor Wegener has made multiple presentations to professional organizations concerning the findings of her research and their policy implications. She has published articles critically analyzing issues in both contracts and torts. She is currently working on research for articles that examine the regulatory, legal and ethical components of the energy industry. Professor Wegener is a graduate of Trinity University and graduated with honors from the University of Oklahoma College of Law and was selected as a member of Order of the Coif. She served as managing editor and founding board member of the Oklahoma Journal of Law and Technology, and the president of the Board of Advocates. As a lawyer, Professor Wegener went into practice at Gum, Puckett & Mackechnie (formerly Spradling, Alpern & Gum) where her practice entailed commercial litigation, oil and gas, trucking and administrative law litigation, and insurance defense. Professor Wegener obtained her Master of Laws from New York University School of Law where she was a Comfort Scholar and was awarded the Seymour Goldstein Memorial Prize. After earning her LL.M. from NYU, Professor Wegener taught for two years as a visiting associate professor at OU Law School in Contracts, Torts and Secured Transactions.
Professional Activities
She is a member of the Oklahoma Bar. She is a member of the Junior League, serves on the Board of Directors for the Oklahoma County Bar Foundation, and on the Westminster Women's Team; and is a former barrister in the William J. Holloway Inn of Court.
Contact Information
300C
Meinders School of Business

Oklahoma City, OK 73106