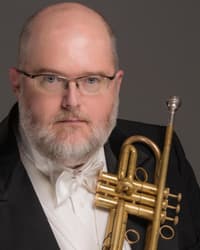 Michael Anderson,
Professor of Trumpet
Instrumental Music
School of Music
Biography
Michael Anderson is Professor of Trumpet at the Wanda L. Bass School of Music at Oklahoma City University. He is a member of the International Trumpet Guild Board of Directors and ITG Journal editorial committee, Executive Director of the Guild's web site, and chairman of the ITG technology committee. He is the ITG Journal columnist for Trumpet Technology and has presented and performed at several ITG Conferences. Previously to his OCU appointment, he was on the music faculty of Dana College in Blair, Nebraska.
Anderson was project manager of the ITG Journal anniversary CD-ROM, distributed to guild members in 2001 and is currently working on a DVD of all Journal articles and music supplements for the membership to be released in 2008. He founded and administrates the Trumpet Players' International Network (TPIN), the oldest and most active Internet discussion list dedicated to the trumpet.
His degrees are from Illinois State University (BM), and the University of Nebraska-Lincoln (MM). Primary teachers have been Dennis Schneider, Herbert Koerselman, and Arnold Jacobs. During his 2003 sabbatical, Anderson observed and studied with master teachers including Bill Adam, Vincent DiMartino, Ronald Romm, Michael Ewald, Karl Sievers, and William Pfund.
Anderson is a tenured member of the Oklahoma City Philharmonic, the Lyric Theater Orchestra and the New Covenant Methodist Church Band. He performs regularly as a duo with Oklahoma City University Organist Timothy Olsen. He was a member of the Lincoln (Nebraska) Symphony Orchestra for 21 years, and performed often with the Omaha Symphony and Opera Omaha. He was a founding member of the Omaha Brass Ensemble, and the Nebraska Brass, and was a member of the Palladium Brass Quintet. He was musical director for the Omaha Big Band and the Omaha Jazz Youth Project. He is an active freelance trumpeter, and has played for countless national tours; recording sessions; and jazz, orchestra and chamber music events.
Contact Information
Room B307
Bass Center

Oklahoma City, OK 73106