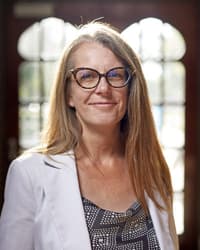 Dr. Michelle Kiec,
Provost and Vice President for Academic Affairs
Academic Affairs
Biography
Before coming to OCU, Dr. Michelle Kiec served as interim vice provost for Extended and Lifelong Learning and dean of graduate studies at Kutztown University, in Kutztown, Pennsylvania. She served various roles at Kutztown since 2012, including acting dean of the College of Education and dean of the College of Visual and Performing Arts.
Her experience at Kutztown includes leadership for programs related to certificates, accelerated degrees, embedded certifications, study abroad, workforce training, articulation agreements, graduate education and adult learning, all within traditional, hybrid and online learning formats. She also oversaw the offices of career development, graduate admissions, and the university library.
Kiec (pronounced "kick") holds master of music and doctor of musical arts degrees in clarinet from the Peabody Conservatory of Music at Johns Hopkins University. She earned a pair of undergraduate degrees from the University at Buffalo – bachelor of music in music performance and bachelor of arts in German.

Kiec maintains an active research and creative agenda as a clarinetist, and advocates for newly composed classical music, a role she puts into practice as she performs chamber music in various ensembles. She is a frequent conference presenter on topics including leadership planning and collaboration, student success programming, curriculum design and faculty development. In her spare time, she enjoys hiking, trail running and traveling abroad.

Contact Information
Clara E. Jones Administration Building

Oklahoma CIty, OK 73106