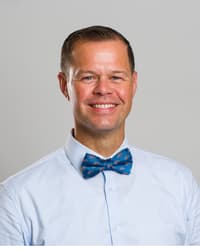 Dr. Paul Gebb,
CETL Director
School of Dance & Entertainment
Center for Excellence in Teaching & Learning
Arts Management Faculty
Biography
Dr. Paul Gebb came to Oklahoma City University in 2009 after performing professionally and serving as the Director of Education for the Lyric Theatre of Oklahoma. He holds a BA in Vocal Performance (Musical Theatre concentration) from James Madison University, an MFA in Theatre from University of Central Florida and an Ed.D. in Higher Education and Organizational Change from Benedictine University. His research interests include Change Management, Reflective Teaching and Learning Practice, Student Connection and Distance Learning.
Dance, music and theater influence his work because the arts are about making connections with an audience. Art is a reflection of life and is expressed through the stories that produce moments of catharsis and personal change. Since becoming Director of the Center for Excellence in Teaching and Learning in 2012, his focus has been on creating connections across the OKCU campus that affect change in the classroom environment. Prior to his tenure as director, he earned the rank of Associate Professor of Dance in the Ann Lacy School of American Dance and Entertainment. He served as the Coordinator of the MFA program in Dance and continues to teach Dance History and Contracts & Management for Performers.
As an educator, Dr. Gebb has served as a K-5 public educator, school board member for Deer Creek Public Schools and Director of Children's Music at Church of the Servant. He has presented workshops and his research in the fields of assessment, teaching and learning, social belonging nationally and internationally. He also has a special interest in distance education where he has taught and studied in the online environment. He currently serves as Chair for the Learning Technology committee at OKCU.
Dr. Gebb was born in Brevard, NC, and grew up in the Shenandoah Valley of Virginia before marrying an Arkansas native. His wife, Brooke, sons Greyson and Carter, and daughter, Townley, have lived in Oklahoma City since 2007. When not at work, he enjoys every moment with his children and loves to go to the movies and or on a run.

Contact Information
DBL 210
Dulaney-Browne Library

Oklahoma City, OK 73106