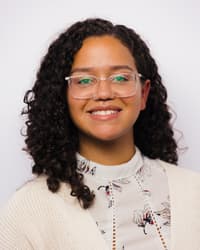 Rayelee McFee,
Advancement Operations Specialist
University Advancement
Biography
Rayelee McFee joined OCU as the Advancement Operations Specialist in March 2022. She has several years of experience working with nonprofit organizations in Oklahoma City. She most recently worked as a Visitor Experience and Development Associate at Oklahoma Contemporary. She worked in Fund Development at Girl Scouts Western Oklahoma and also served as Membership Coordinator at the Oklahoma Zoological Society.
Rayelee graduated from the University of Central Oklahoma with a Bachelor of Arts in English–Creative Writing and a minor in marketing. She is poet and artist, as well as an avid reader who was able to pursue her passions thanks to the power of higher learning.
Her hobbies include spending time with her family, playing tennis, being in nature, thrifting, and playing her Nintendo Switch.
Contact Information
Room 303
Ann Lacy Admissions & Visitor Center

Oklahoma City, OK 73106