Rebekah Carlozzi, MHS, PA-C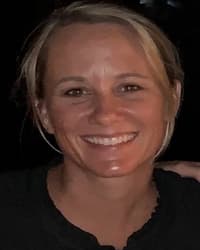 Rebekah Carlozzi, MHS, PA-C,
Clinical Assistant Professor
Physician Assistant
Biography
Rebekah (Becky) Carlozzi was born and raised in Roswell, NM. She obtained her Bachelor's degree from Oklahoma State University in 2003 with a double major in Human Development and Family Sciences and Spanish. In 2001, she completed an International Study Program in Puebla, Mexico. She obtained her Masters of Health Sciences in 2005 from the University of Oklahoma Health Sciences Center Physician Associate Program. Since 2005, she has been certified by the National Commission of the Certification of Physician Assistants and is also a member of both the Oklahoma Association of Physician Assistants and the American Academy of Physician Assistants.
Her clinical experience has primarily been in the field of Endocrinology; both in private practice as well as at an urban clinic for the uninsured. She has been a guest lecturer for both the University of Oklahoma and Oklahoma City University.
Becky lives in Oklahoma City with her husband and two boys. They enjoy spending free time traveling, hiking, camping, playing sports, and attending collegiate and professional sporting events together.
Contact Information
Room 214
Sarkeys Science & Math Center

Oklahoma City, OK 73106