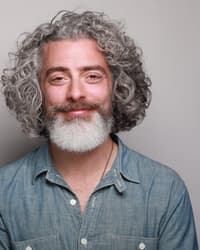 Rick Wasserman,
Instructor, Voice & Speech II
MFA Screen Acting
Biography
Rick is perhaps best known as the 14 year signature promo voice of AMC Network (The Walking Dead, Mad Men, Breaking Bad, etc), voicing Marvel characters Thor and Hulk, and creating the successful mobile voiceover studio, the Tri-Booth. He has voiced for nearly every television network in the country, including NBC, ABC, CBS, FOX, A&E, VH1 and Food Network. Rick can also be heard on popular video game series such as Halo, Call of Duty, Diablo, Starcraft and Batman Arkham.
He is the founding director for BOOKABLE Voiceover, a popular training and demo production company in Los Angeles. Besides teaching voiceover one-on-one to private clients, Rick facilitates masterclasses online, at voiceover conventions, and at acting programs across the country, most recently with Rider University, Case Western Reserve University, University of Connecticut, and University of Missouri-Kansas City.
For more than decade, Rick has been a proud member of Primetime Voices For Children, an organization comprised of veteran voiceover performers who read stories and play with young patients at Mattel Children's Hospital.
An actor of stage and screen outside of the voiceover booth, Rick made his Broadway debut in Disney's The Lion King and recently appeared in the Cleveland Playhouse production of The Diary of Anne Frank. Favorite television performances include roles on 24, The District, House MD, Law & Order and Without A Trace.
When not performing or lecturing, Rick enjoys spending time with his darling wife, two sons and puppy. Favorite hobbies: running and vegan cooking.