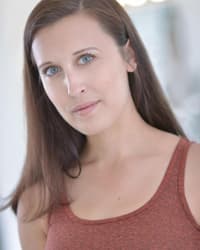 Sarah DeYong,
Adjunct Instructor of Voice
Music
Voice
School of Music
Biography
Sarah DeYong grew up in Oklahoma and is a 2013 alumna of the OCU Music Theater program. She spent the next decade teaching privately and performing in regional theaters across the United States. Her passion for both teaching and performing led her to pursue a Master of Fine Arts in Musical Theater Vocal Pedagogy. She graduate in 2023 from Boston Conservatory at Berklee where she learned a multitude of techniques to help her students discover more easeful and authentic vocal expression in both classical and contemporary singing. She works to provide compassionate and holistic training that meets the student's access needs.
Sarah's teaching philosophy revolves around the belief that personal well-being fosters vocal well-being. A singer builds their instrument at the same time as they are "playing" it. It lives in their body and is motivated by their minds and emotions so care of the person is synonymous with care of their voice. Sarah strives to incorporate the principles of Trauma-Informed Voice Care into her studio to help her challenge singers without endangering their psyches. Her Master's Thesis, "Voice Teaching within a Students Window of Tolerance: Upholding an Ethical Scope of Practice in a Trauma-Informed Voice Studio," argued that Trauma-Informed Voice Care (TIVC) is the minimum ethical standard for supporting student mental health without crossing into the territory of the mental health professional. She will be presenting her research at the Pan American Vocology Association 2023 Symposium.
Sarah is still an active performer, currently working with Scissortail Productions and Oklahoma Shakespeare in the Park. Sarah has also initiated a dementia friendly choir in Stillwater, Oklahoma for those living with Alzheimers and related dementias and their carepartners to enjoy the cognitive and well-being benefits of group singing.
Contact Information
B304
Bass Center

Oklahoma City, OK 73106