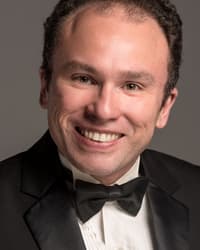 Dr. Sergio Monteiro,
Professor of Music, Director of Piano
Keyboard
School of Music
Biography
"Sergio Monteiro is an artist with extraordinary creativity and energy. When he starts playing, music comes to life. His love for music is very strong and passionate, and music loves him in return. His pianism is brilliant, extremely generous, inspired and particularly interesting. It is a pure joy and very stimulating." — Martha Argerich
"The Brazilian Wonder" — La Nacion, Argentina
"Razor-sharp sensitivity" — The Washington Post


Steinway Artist and Director of Piano Activities at the Wanda Bass School of Music at Oklahoma City University, Sergio Monteiro was born in Niteroi, Brazil. He began piano study at the age of 4 with his mother and went on to work under the guidance of Myrian Dauelsberg at the National Music School of Rio de Janeiro, where he completed the bachelor's and master's degrees. During this period, he won several Brazilian and other South American piano competitions.
In 2000 he was awarded a scholarship by the Ministry of Culture to study at the Eastman School of Music in the U.S., where he earned his Doctor of Musical Arts under Nelita True. He won important prizes at Eastman, including the Performance Certificate and the Concerto Competition. In 2003, Sergio won the 2nd Annual Martha Argerich International Piano Competition in Buenos Aires. He was invited to play at the opening concert of the Martha Argerich Festival with the Buenos Ayres Philharmonic conducted by Charles Dutoit, thus launching Sergio's international career. Then he was selected to take part in the International Piano Academy at Como, Italy, where he worked with pianists and teachers such as Bashkirov, Andreas Staier, Fou T'song, Claude Frank and Willian Grant Nabore. Sergio has appeared with several orchestras in South America, Europe and North America, under the direction of Charles Dutoit, Rafael Fruhbeck de Burgos, Pedro Ignacio Calderon, Isaac Karabitchevsky, Richard Rosenberg, Joel Levine, Eduard Schmieder, Misha Raschlevsky, Ira Levin, Anton Nanut, Grahan Jackson, Gabor Hollerung, Alexander Mickelthwate, Carmon DeLeone and others.
Among his artistic engagements, he has played with the Dresdner Philharmonic, at the Municipal Theater of Rio de Janeiro, Brazil; the Oklahoma City Philharmonic at the Music Civic Center, Okla.; and the Symphony Toronto at the Toronto Center for the Arts, Canada. He also gave the Brazilian premiere of John Corigliano's Piano Concerto with the Brazilian Symphony Orchestra in Brasilia and Rio de Janeiro, Brazil; gave the premiere of Almeida Prado's Gravuras Sonoras a D. Joao VI - for piano and orchestra; performed at the Kremlin in Moscow with the Kremlin Chamber Orchestra; and gave recitals at the Palestrina Hall in Rome, at the Konzerthaus and the Philharmonie in Berlin, at the Mozarteum Argentino, in Buenos Ayres, at the Sibelius Academy, in Helsinki, at the Millennium Stage, Kennedy Center, Washington, at the Reial Cercle Artistic, Barcelona, at the Steinway Halls in New York and Dallas, and at the Martha Argerich's Festival, in Beppu, Japan.
In addition to recitals in Switzerland, Argentina, Chile, Brazil, Italy, Netherlands and Germany, he has been invited frequently in the last years to perform, lecture and adjudicate in conservatories and concert halls in China, most notably Tianjin, Guangzhou, Wuhan, Guanxi and Qingdao. An energetic champion of Brazilian music, Sergio has been honored by many composers with invitations to premier compositions written for and dedicated to him. In 2008, a well-acclaimed recording featuring Villa-Lobos' complete cycle of Prole do Bebê was released.
Since 2015, he has launched five recordings with Naxos featuring music of Henrique Oswald, Franz Liszt, Mendelssohn and Domenico Scarlatti, all receiving excellent reviews. These recordings have reached more than 10 million streams on Spotify. His Scarlatti albums have been considered the outstanding releases in the Naxos cycle of his Sonatas and the recording of Mendelssohn early piano music a "true ear-opener, showing how stunning composer Mendelssohn was at such an early age." The first volume of the complete piano works of French composer Louis Vierne has been released in the fall of 2021 and has been praised as "an immense discovery." The second volume was scheduled to be launched in the fall of 2022.
In addition to his performing activities, Dr. Monteiro has a vibrant teaching career at Oklahoma City University and his students have been winning competitions nationwide and establishing themselves as performers and teachers. He was elected Musician of the Year in 2011 by the Oklahoma Federation of Music Clubs and received a Commendation from the Governor of the State of Oklahoma.
Sergio Monteiro celebrated Beethoven's 250th anniversary year in 2021, performing the complete cycle of his 32 sonatas in 8 recitals at the Wanda Bass School of Music, Oklahoma City University. It was the first time in 60 years that all Sonatas have been performed in Oklahoma City by a single artist.
Contact Information
A308
Bass Center

Oklahoma City, OK 73106