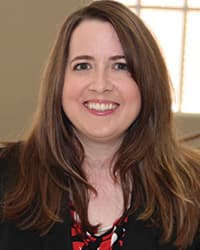 Susan Jurney, Ph.D.,
Associate Professor of Accounting
Accounting and Finance
Biography
Education
Ph.D., Accounting, Minor Psychology, University of Oklahoma
M.B.A., University of Notre Dame
B.B.A, Accounting, Oklahoma Christian University
Areas of Expertise
Dr. Jurney specializes in teaching taxation and financial accounting. Her research interests are primarily judgment and decision making of taxpayers, tax professionals, and nonprofessional investors. Dr. Jurney's research has been presented in numerous national academic conferences, such as the American Accounting Association annual meeting, American Taxation Association annual meeting, Accounting, Behavior and Organizations annual research conference, and the annual Behavioral Tax Symposium. Her research has been published in Advances in Accounting and The Tax Adviser. Her current research examining generational differences in perceptions of fairness and tax compliance attitudes has been cited in The New York Times. Before joining the faculty at Oklahoma City University, she was on the faculty at the University of Alabama and the University of Arkansas. Dr. Jurney has taught the following courses: Fundamentals of Tax I and II, Intermediate Accounting I and II, Cost Accounting, Financial Accounting I, and Tax Research.
Professional Activities
Dr. Jurney is a Certified Public Accountant in the State of Oklahoma. She is a member of the American Accounting Association, American Taxation Association, and Accounting, Behavior and Organizations. Dr. Jurney is serving as vice chair of the American Taxation Association 2017 Annual Meeting Program committee. Prior to entering academia, she was a financial analyst for IBM and spent three years in public accounting (working for Arthur Andersen).
Contact Information
220G
Meinders School of Business

Oklahoma City, OK 73106