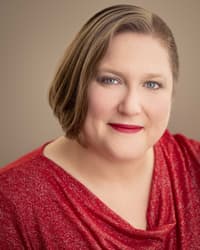 Susanna Brieschke,
Administrative Assistant to the Deans
Music
Music Staff
Theatre Staff
School of Theatre
School of Music
Biography
Susanna Brieschke joined the Deans' staff in Oklahoma City University's School of Theatre and Wanda L. Bass School of Music in 2014.
She was born in Cheyenne, Wyoming, to an Air Force family, and grew up outside St. Louis. She went on to earn her A.A. in Music Business from Northern Oklahoma College and her B.A. in Vocal Performance from Cameron University, where she sang and performed on clarinet and bari sax.
A longtime member of Canterbury Voices, she was choir director for St. Francis of Assisi Parish at Tinker Air Force Base for 10 years. She previously served as support staff for Oklahoma City-based Centennial Hospice.
She is a mother of four children, ages 3 through 13, and a lover of sewing, crafting, singing, and all things music. She has traveled abroad, visited 36 states and enjoys taking her family on far-flung adventures including, most recently, hiking at the Grand Canyon.
She notes of her work at OCU: "I enjoy every minute of this journey, and nothing makes me feel more fulfilled than to see our students go off to live their dreams after graduation. Being able to aid such an amazing faculty in helping the students achieve their dreams could not be more rewarding."
Contact Information
A301
Bass Center

Oklahoma City, OK 73106