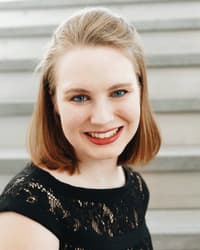 Dr. Taylor Hutchinson,
Adjunct Instructor of Vocal Coaching
Music
Vocal Coaches
School of Music
Biography
Pianist and vocal coach Taylor Hutchinson enjoys a versatile career, frequently appearing with both singers and instrumentalists, in repertoire ranging from Baroque opera to contemporary chamber music and musical theater. Her international career has included performances in the Czech Republic, France, and Germany. In fall 2022, Hutchinson joins the faculty of Oklahoma City University's Bass School of Music as a vocal coach.
In demand as a vocal coach and partner of singers, Hutchinson is on faculty with the Prague Summer Nights Young Artists Music Festival, and she was the music director of Opera at Truman. She has also performed and coached with the Bay View Music Festival, Musiktheater Bavaria, the Druid City Opera Workshop, and the Franco-American Vocal Academy. She was the music director and pianist for Mozart's Così fan tutte for the Rochester-based initiative Midsummer Night Opera. In summer 2016 she attended SongFest in Los Angeles, where she worked with collaborative pianists Margo Garrett, Martin Katz, and Roger Vignoles. She made her NPR debut as a fellow at SongFest's Hidden Valley Winter Institute in January 2017 under the mentorship of Sir Thomas Allen and Graham Johnson. Hutchinson's love of art song motivated her doctoral dissertation on Guy Ropartz's Quatre Poèmes après l'Intermezzo d'Henri Heine, which explores the connections between poetry and music, and how translation and poetic structure affect perception. She has also had the privilege of performing in masterclasses for singers Stephanie Blythe, Frederica von Stade, Thomas Hampson, and director Peter Sellars; and has worked with composers Jake Heggie, Libby Larsen, and John Harbison.

Hutchinson is a devoted educator of young singers, and was one of four pianists selected for the prestigious NATS (National Association of Teachers of Singing) Intern Program for 2021, working with master teachers Craig Terry and Valerie Trujillo. The undergraduate singers Dr. Hutchinson has coached have gone on to pursue graduate degrees at institutions including University of Michigan, Boston University, and Rice University. She finds great joy in working with both vocal and instrumental students, as they work to become the next generation of performers and music educators.
Hutchinson received her DMA in Collaborative Piano from Arizona State University, where she was on staff with ASU Music Theatre and Opera. She completed her Master's degree at the Eastman School of Music in Piano Accompanying and Chamber Music, and graduated Summa Cum Laude from Virginia Tech, earning bachelor's degrees in both Piano Performance and Mathematics. From 2019-2022, Hutchinson was Coordinator of Collaborative Piano at Truman State University. Her primary teachers include Andrew Campbell, Jean Barr, and Tracy Cowden. Hutchinson's recent projects include art song performances with longtime collaborator baritone Jarrett Porter, the world premiere of Splitting the Sunlight by Dominick DiOrio, and multiple productions of Le Nozze di Figaro with Prague Summer Nights Young Artists Music Festival.
Contact Information
A322
Bass Center

Oklahoma City, OK 73106