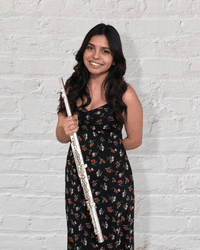 Thalia Hernandez,
Student Services/Auditions Coordinator
Music
Music Staff
School of Music
Biography
Thalia Hernandez is a flutist born and raised in San Antonio, Texas. After graduation she moved to San Angelo, Texas, where she earned a Bachelor's in Music Education. Most recently she graduated with a Master's in Flute Performance from the Wanda L. Bass School of Music at Oklahoma City University.
Early in her career, Hernandez traveled with the Texas Ambassadors of Music soloing all throughout Europe. In 2019 she won the Angelo State University Concerto Competition. During her time at OCU she joined the flute choir where in 2022 were named the Mary H. Anderson Flute Choir and performed at the National Flute Association Convention in Chicago. She continues to frequently play around the OKC area.
Thalia Hernandez is back at Oklahoma City University as the Auditions Coordinator for the Wanda L. Bass School of Music. When she isn't working, she enjoys writing songs, visiting her family in San Antonio, and watching scary movies.
Contact Information
A312
Bass Center

Oklahoma City, OK 73106