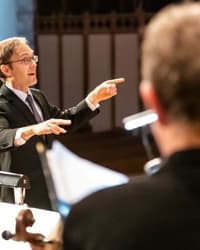 Dr. Warren Puffer Jones,
Collegium Director
Early Music Summer Institute
Biography
Conductor Warren Puffer Jones completed his undergraduate at Yale University, received his master's in choral conducting from Indiana University, and holds a DMA from the University of Michigan, where he studied with Kenneth Kiesler, also undertaking further studies at the Conductors Institute at Bard. He has directed concerts in twenty-two countries and throughout the U.S., including appearances at the National Concert Hall in Dublin and New York's Alice Tully Hall.
He is founding music director of TACTUS, a professional vocal ensemble and chamber orchestra performing engaging, innovative, thematic concerts. Recent performances include a concert of Bach cantatas with texts by Martin Luther celebrating the 500th anniversary of the Reformation, a program commemorating the anniversaries of the Thirty Years' War and World War I, and a concert of music inspired by the 50th anniversary of the moon landing.
As Music Director at the First Presbyterian Church of Oklahoma City and Director of the Kemp Concert Series, he has led the Kemp Concert Choir in performances of major works of the choral-orchestral repertoire, including Handel's Messiah, Brahms's Ein deutsches Requiem, Mozart's Requiem, and Beethoven's Mass in C.
For ten years Maestro Jones served as music director of Arbor Opera Theater, where his performances garnered such awards as the 4x4 Prize, the 2014 Wilde Award for best music director in Michigan, and third place in the professional opera division of The American Prize. He also served as assistant conductor of Opera Illinois and, at the University of Michigan, directed both the Opera Theater and the Gilbert & Sullivan Society.
From 2005 to 2012 he was the music director of the Ann Arbor Cantata Singers. During his tenure, the organization expanded its concert season, including performances and outreach activities throughout southeastern Michigan, and achieved a high level of musicality noted by critics including James Leonard of the Ann Arbor Observer, who wrote, "Under conductor Warren Puffer Jones's expert direction, the Cantata singers delivered a deeply moving performance."
Among his many activities as orchestral conductor, Maestro Jones served as music director of the Livingston Symphony and the University of Michigan Campus Philharmonia Orchestra and was assistant conductor of the Michigan Philharmonic and Battle Creek Symphony Orchestra.
He and his wife, soprano Kelly Holst, live in Oklahoma City with their children, Isaac and Olivia.