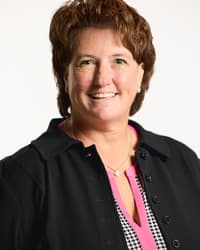 Wendee Lentz, PhD, ATC/L,
Clinical Assistant Professor
Doctor of Physical Therapy
Biography
Dr. Lentz came to Oklahoma City University in 2013 as part of the teaching faculty in the area of Exercise and Sport Science. In 2021 she joined the Physical Therapy program as an adjunct professor and moved into a full-time teaching role in 2022. She is instrumental in teaching foundational courses in the didactic phase of the program.
Dr. Lentz is a Kansas native graduating from Pittsburg State University with a degree in biology as well as experience in athletic training that lead to her becoming a certified athletic trainer in 1993. She went on to be a graduate assistant in the athletic department at Oklahoma State University during the mid-90's where she completed a Master's degree in health promotions. Just prior to completing her Master's degree she returned to Pittsburg State to fulfill a full-time role as a certified athletic trainer for the Gorillas. She later developed a desire to continue her education and joined the athletic department at University of Oklahoma where sent spent many years as the athletic trainer for the women's basketball team as well as overseeing the sports medicine programs for softball and tennis teams. While at OU, Dr. Lentz completed her PhD in Higher Education with an emphasis in program planning and curriculum design.
Dr. Lentz brings over 20 year of collegiate sports medicine experience to our program working with thousands of athletes in various Division I and Division II sports. She spent many years in her career working directly with multiple Hall of Fame coaches such as Sherri Coale and Patty Gasso. In addition to working with elite level athletes and coaches, she had the privilege of teaching and participating in various research projects related to collegiate athletics. Throughout her career she has always been passionate about education. As a healthcare provider, Dr. Lentz felt it was important to not only offer the best medical attention to all of her student-athletes but to provide them a thorough understanding of their injury or illness to keep them invested in their return to optimal health.
Alongside her passion for sports medicine, Dr. Lentz has been involved in multiple organizations at both the state and area levels. She is the former president of the Oklahoma Governor's Council on Physical Fitness and Sports, and spent time working the Oklahoma Endeavor Games as well as multiple Special Olympics events. She was the local medical coordinator for the prestigious Women's College World Series for many years and remains involved with Big XII softball and basketball tournaments when they are in Oklahoma City's backyard. When she is not on the sidelines for the aforementioned events, you could find her teaching a merit badge class for her son who recently achieved his Boy Scout Eagle rank or at one of her daughter's high school or club sporting events. Needless to say, she is a sports enthusiast and is passionate about health, engagement and the well-being of those around her.
Education and National Certifications
2006: Doctor of Philosophy, University of Oklahoma
1996: Master of Science, Oklahoma State University
1993: Bachelor of Science, Pittsburg State University
National Athletic Trainers Association Certified Athletic Trainer (ATC), 1993 – present
Licensed Athletic Trainer in the State of Oklahoma (ATC/L), 1994 – present
NPI # 1285693135
Teaching Interest
Anatomy & Physiology
Care and Prevention of Athletic Injuries
Interprofessional education and collaboration
Leadership
Current Research/Scholarly Interest
Non-traumatic Exertional Medicine
Program planning and analysis
Concussions
COVID-19
Awards, Recognition and Service
Excellence in Teaching Award – Outstanding Adjunct Faculty at Oklahoma City University
Oklahoma City University exemplary service award for the COVID-19 Emergency Operations Center Team
Oklahoma City University – Athletic Department pre-season physical screening and baseline testing
Oklahoma City University – School of Dance and Entertainment pre-participation screening
Contact Information
Room 206
Loeffler Building

Oklahoma City, OK 73106