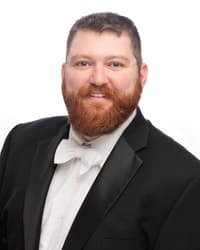 Dr. Jamie Whitmarsh,
Adjunct Instructor of Percussion
Music
Instrumental Music
School of Music
Biography
Dr. Jamie Wind Whitmarsh is an American composer, percussionist, conductor, and cat enthusiast based in Oklahoma City. He serves as Principal Timpanist of the Oklahoma City Philharmonic, as Executive Director and conductor for the Oklahoma Modern Music Collective, and composer for a variety of indie game studios. He regularly performs with Duo Rodinia, a clarinet/percussion duo focused on bringing accessible modern music to all audiences, and Great Plains Percussion Group. Jamie is active within the game development community, regularly designing games and working as composer and sound designer. Recent releases include Elowen's Light by Sweet and Power Sauce (Steam) and Hyper Bimbo Beats by Plunder Inc. (Google Play and iOS stores).
As a performer Jamie may be heard on many compact discs, including: Elegy/ Violin Concerto No. 2/ Of Thee I Sing with the Oklahoma City Philharmonic and The Music of Florence Price: The Fort Smith Symphony, both with NAXOS Records; Downcycle and Bullet Hell with Greenhaus Productions LLC; Firefish, the Music of Blake Tyson, Florida State University Percussion Ensemble, Volume II: Not Far From Here, and Florida State University Percussion Ensemble, Volume III: Ten Windows, all with Garnet House Productions. His music may also be heard on albums by Meraki Duo, Ryan Beach, Florida State University Percussion Ensemble, Tyler Tolles, and Rogue Two Duo. Jamie performs professionally as "405 Steel", OKC's only professional steel band.
Several notable competitions Jamie has won include the PAS Composition Competition (first place, 2012, Concerto for Drumset; second place, 2013, Variations 2.0), MTNA Young Artist Composition Competition (first place 2014), 48-Hour Film Project Best Musical Score (Oklahoma, 2018, Big Day), and the American Prize in Music (third place, 2021, American Biomes). He has recordings on the MSR Classics, Garnet House Productions, and Equilibrium Recordings labels, and has had his music performed at many conventions and conferences, including the PASIC, ICA ClarinetFest, the World Saxophone Congress in Croatia, the NASA Convention, the SCI Regional Conference, ITG Convention, MTNA National and State Conventions, the UNK New Music Festival, and the 16th Biennial Festival of New Music at Florida State University, among others. Jamie's marching band company A103 Marching provides custom music and drill to marching bands across the country.
Jamie is on the board for Oklahoma Modern Music Collective, Oklahoma Community Orchestra, and American Voices, and serves on the PAS Composition Committee. He also serves as a moderator for the game audio Discord servers "Beats To Play Games To" and "Oklahoma Game Developers". Previously he has served as both President and Vice President for the Oklahoma Percussive Arts Society, the Percussive Notes Review Team, and the Director of Composition for YES Academy workshops in Lebanon, Egypt, and Kurdistan.
Jamie holds a Doctorate in Percussion Performance from the University of Oklahoma, a Master's degree in Music Composition from Florida State University, and a Bachelor's degree in Music with concentrations in Percussion Performance and Music Composition from Oklahoma City University. He is an Innovative Percussion Inc. Performing Artist, Remo Inc. Concert Artist, and is a member of the Black Swamp Percussion Educator Network.
Contact Information
Bass Center

Oklahoma City, OK 73106