William F. Shdeed, D.H.L.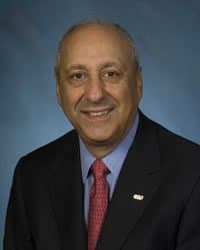 William F. Shdeed, D.H.L.,
Emeritus Trustee
Board of Trustees
Biography
Alumnus: '62 Bachelor of Science in Business '65 Juris Doctor '05 Honorary Doctor of Laws
2010, Oklahoma Servant Leader Award
William (Bill) Shdeed is a private investor and local real estate developer. He is a member of the Oklahoma and Oklahoma County Bar Associations. Shdeed serves on the boards of the UMB Oklahoma Bank and the State Board of Education. He has served on the boards of the OKC Community Foundation, and the Nazih Zuhdi Transplant Institute, and is a past chair of the Nichols Hills Board of Adjustment. He is the former chair of the Baptist Medical Center Foundation, the Nichols Hills Planning Commission, and YMCA Camp Classen. Shdeed and his wife, Pamela, attend Nichols Hills United Methodist Church. Both hold degrees from Oklahoma City University.