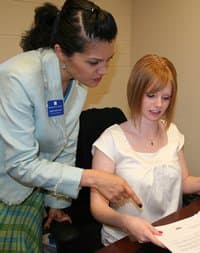 If you accept a job on campus, in most cases you are making a commitment to fulfill the duties and time commitments required of the position. The following are expected of all student employees.
Students should work the hours that they have committed to work and should not commit yourself to more than you can handle.
Students are not permitted to work during scheduled class time. You are only permitted to work during that time, if the class was cancelled by the professor or the university.
Federal Work Study students are normally awarded $3,000 per year which allows the student to work 12-13 hours a week if they are paid the minimum wage rate. On a case by case basis, students with multiple jobs and multiple types of funding (Federal Work Study, Departmental or Institutional) can work up to 23 hours per week if they have enough funding to do so. Please check with your supervisor and/or Jan Stovall to determine how many hours a week you are allowed to work.
Students may work up to 30 hours per week during the summer IF funding permits. Please check with your supervisor and/or Jan Stovall to determine how many hours a week you are allowed to work. If the student is not taking summer classes but is pre-enrolled for the fall and was enrolled the previous spring, the student is still eligible to work.
A Federal work study students timesheet can be terminated before the end of a semester, if their federal work study funding has been exhausted. This can occur when a student works more than the allotted 12-13 hours per week.
Students should arrive at work on time and perform at their highest level of ability.
Dress appropriately for the job location. Individual departments may have a dress code for health or safety reasons or situations where you are highly visible to the community. Your supervisor can describe any specific dress requirements.
Refrain from conducting your own business on the job. This includes initiating/receiving personal phone calls, checking personal e-mail or browsing the internet.
Exercise responsible, ethical behavior when using the university's computing facilities.
Accurately report the hours worked on a bi-weekly time sheet, and submit the hours in a timely fashion to your supervisor. Students are paid on an hours-worked basis. Holidays, sick days, meal time and travel time may not be counted as hours worked.
If you are unable to work, you must notify your supervisor as early as possible to allow him or her to make alternate arrangements. (Substitution policies vary by department. You should ask your employer whether getting your own substitute is expected or acceptable).
If you have accepted a job for the semester, your employer will be relying on you even when you have mid-term and final exams. Since you are given your exam schedule in advance, speak to your employer ahead of time if you need to adjust your work schedule during that period. Your primary obligation is that of being a student. Any work schedule you arrange should allow you enough time for classes, study, extracurricular activities, and relaxation. However, once you have made a commitment to work, your supervisor will expect you to fulfill that commitment. For any questions concerning student employment, please contact our office.