About Oklahoma City University
Meet OCU.
As a top liberal arts & sciences university, Oklahoma City University has been leading students to their creative edge for nearly 120 years. We are a diverse community of academic achievers, big thinkers, independent spirits and dedicated artists. At OCU, students from across the globe follow their passions and excel in the arts & sciences, religion, business, health care and the performing arts. Discover why Oklahoma City University is such a great place to learn, live and call home.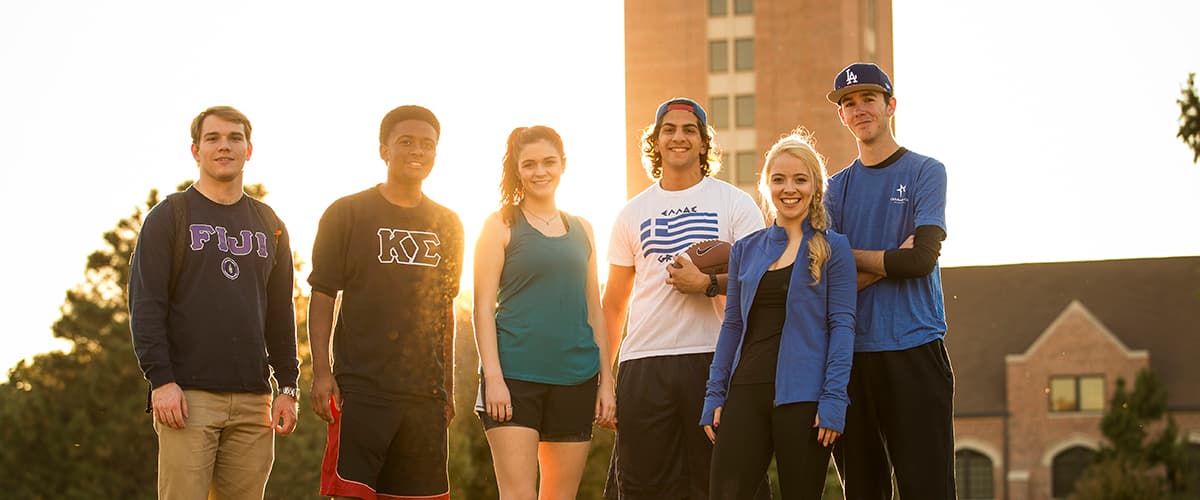 OKC's University
Oklahoma City University is a coeducational, urban private university located in Oklahoma City, in the Uptown district. The university is affiliated with the United Methodist Church and offers a wide variety of degrees in the liberal arts, fine arts, sciences and business. OCU is consistently ranked as one of the top universities in the country by U.S. News & World Report, and Oklahoma City University is also listed in Forbes' "Best Christian Colleges" & "100 Best College Buys."
Why you want to be here
Outstanding Programs
More than 70 undergraduate majors, 20 graduate degrees (including a law degree, MBA and two doctoral programs), and advanced degree programs for working adults.
Special Opportunities
Service-learning opportunities across the curriculum; University Honors Program; OCULEADS, a scholarship and leadership program; OCU-Doers Taiwan Study Program; Center for Interpersonal Studies through Film and Literature; Washington Semester Program; study abroad program; and more!
Experienced Faculty
Seventy-eight percent of our faculty members hold the highest degrees in their fields. Professors, not graduate assistants, teach all classes.
Personalized Attention
Student/faculty ratio of 11:1 and class sizes of about 17 for freshmen and 13 for upperclassmen
Diverse Environment
More than 1,800 undergraduate students and 600 graduate students from 46 states and 43 foreign countries
Active Campus
More than 80 student-led organizations, including seven national fraternities and sororities, our own chapter of Habitat for Humanity, multicultural student associations, student government and more.
Stellar Athletics
The Stars have won 73 national championships, including the 2015 NAIA men's cross country championship, claiming that title for the third consecutive year. OCU student-athletes have maintained an overall GPA of 3.0 or higher for 14 straight years.
Ideal Location
Our 104 park-like acres reside in the heart of Oklahoma City, just minutes from a diverse range of educational, social, cultural and recreational opportunities.
Exceptional Financial Support
More than $34 million awarded annually in academic merit or performance scholarships, with awards ranging from $1,000 to $10,000. Many other scholarship programs such as the Clara Luper Scholars and the American Indian Scholarship Program offer assistance to our students. More than 90 percent of students receive academic merit, performance or need-based financial aid.
Quick Facts
Enrollment: More than 1,700 undergraduate students and 600 graduate students from 46 states and 43 foreign countries

Student/Faculty Ratio: 11:1
Average class size for freshmen: 17
Average class size for upperclassmen: 13
Campus: 104 park-like acres in the heart of Oklahoma City
Affiliation: Private United Methodist university established in 1904
Faculty: More than 78 percent of faculty hold highest degrees in their fields; no classes taught by graduate assistants
Involvement: More than 60 student organizations, including six national fraternities and sororities
National Rankings: Consistently ranked as a top-tier, master's-level university by U.S. News & World Report
Financial Aid: More than 90 percent of students receive academic, merit, performance or need-based financial aid
Workplace: Named a "Great College to Work For" by Chronicle of Higher Education
A Modern Metropolitan Setting
Young. Inventive. Growing.
Home to more than 1.2 million Oklahomans and an average of 300 days of sunshine per year, the Oklahoma City metro offers an abundance of the arts, quality healthcare, excellence in education, and more. And it does so without high costs, energy shortages, or traffic congestion. It is a distinctly livable city where you can chase your dreams and still enjoy a rich quality of life.

We are Oklahoma City's University
Our campus sits in the heart of OKC in the historic and vibrant Uptown 23rd District.
Just a short drive, walk, or bike ride from campus you can explore more than a dozen diverse neighborhoods and entertainment districts featuring live music venues, local restaurants, coffee shops, food trucks, farmers markets, art events and cultural performances.
On any given night you may find yourself dining at one of the local hotspots in Automobile Alley or Deep Deuce, enjoying a festival in the Plaza District or Midtown, appreciating one of the many art galleries in the Paseo Arts District, attending a professional sporting event, catching a local or nationally touring show at the Civic Center Music Hall or the Lyric Theatre of Oklahoma, playing laser tag in the Bricktown Entertainment District, or taking a stroll by beautiful Lake Hefner.

Alumni Success
On Broadway and Wall Street, in boardrooms and hospitals, behind pulpits and cameras, our graduates excel.
They are leaders in their professions and enrich their communities, and they attribute their success to the preparation they received at Oklahoma City University.
Every year employers from all around the nation visit OCU to recruit graduates. However, many students find that Oklahoma City is the ideal place to start a career because it is a hotbed for diverse and innovative employment. Fortune 500 companies headquarter in our own backyard and major corporations are located around the city. Our grads find success.