President Kenneth Evans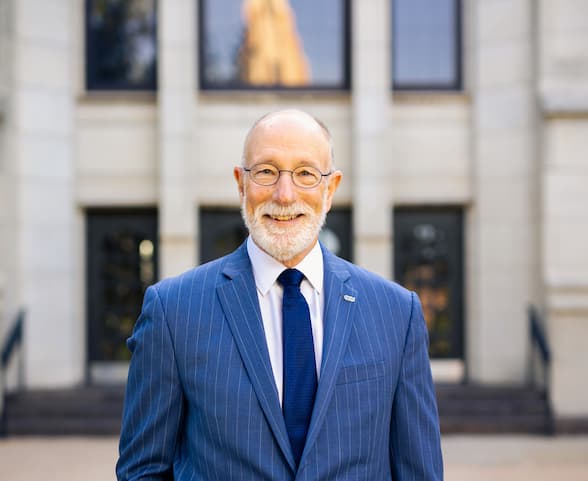 Oklahoma City University's 19th president
Dr. Kenneth R. Evans began his term as the 19th president of Oklahoma City University on July 1, 2021.
Evans came to OCU after serving as president of Lamar University in Beaumont, Texas, for eight years. Prior to his presidency at Lamar University, he was dean of the Price College of Business at the University of Oklahoma for six years. Before that, Evans served in a variety of administrative roles at the University of Missouri-Columbia and as a marketing professor at Arizona State University.
Evans received his doctorate from the University of Colorado, his MBA from California State University-Sacramento, and his undergraduate degree from the University of California-Davis. His research has been published in marketing and business academic journals and he has received national and international recognition for his contributions. Evans has been recognized for his work in the design and implementation of interactive learning experiences and graduate education. He has spoken at conferences and universities around the world including in China, Taiwan, Finland, and Romania.
Before his academic career, Evans worked in the transportation industry in various marketing and sales capacities and has been involved in sales and sales management consulting in the banking industry, convention sales, and financial services. He earned the Lifetime Achievement Award from the American Marketing Association Sales Interest Group.
At Lamar, Evans emphasized initiatives to strengthen the university's research endeavors, focus on performing and creative arts, increasing enrollment, and fostering a culture of celebrating diversity and inclusion. He also led a major collaborative effort to increase the effectiveness of technology in the curriculum — both on campus and in primary schools in the surrounding community — utilizing partnerships with companies including Apple, Google, and Microsoft.