Employee Spotlight: Mackenzie Wickstrom
Posted
The Employee Spotlight series continues with a law school edition, academic affairs specialist Mackenzie Wickstrom. Mackenzie is an Oklahoma City native but is new to OCU.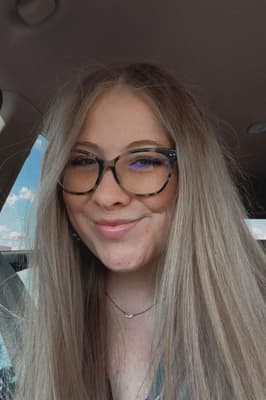 Here are Mackenzie's Spotlight survey responses:

College experience: Oklahoma State University - bachelor's degree in Human Development & Family Sciences: Child and Family Services
In what city did you grow up: Oklahoma City!
Why is helping students important to you: College students are in such a transitional place in their lives, and being there to support students during this phase has always been something I have been passionate about. Helping students through a time of new education, new experiences, new relationships and more, allows me to impact and support the next generation.
What's one piece of advice you'd give to an incoming OCU student: Get involved and stay connected! College is challenging but it is set up for you to succeed in college and after graduation. There are so many ways to get involved and ways to use the resources that are on campus. Although you are here to get an education, college is here for way more than that! Take advantage of the resources and opportunities while you are here.
What are some of your favorite things to do in your free time: I have a really big family and five brothers that are still in school, so I spend a lot of time at their events. I love to read and spend time at local OKC favorite restaurants!
You're going to be stranded on a deserted island and you can only take one movie and one TV show/series to watch. What would you take: "New Girl" - my all time favorite!
Favorite flavor of ice cream: super classic -- vanilla
What's something you like about working at OCU: I love the opportunities and connections that I have made. Being around students brings me so much joy and makes me want to work at OCU for a while!
Recent professional achievements: I was invited to be on a couple of councils here at OCU, I am very excited to be more involved on campus!
What's one country you'd love to visit, and why: Germany. I love history and Germany is full of it, plus my family (many years back) is from there.
What's your top-rated metro-area pizza place: I love Hideaway.
Early riser or night owl: Night owl
You're going to attend an OCU event -- do you pick music, dance, theatre or athletics, and why: Athletics - I grew up in a coaching family so life feels full with sports in it! I spend most Friday nights at a football game somewhere in Oklahoma. Athletics bring a whole different culture that can't be found anywhere else.
What's your best one-sentence sales pitch for why a student should attend OCU: OKC feels like home because of its small town nature. It is such a good place to get a great education and be involved in the community - OCU is at the center of it all!