From the Ann Lacy School of Dance to the Radio City Rockettes
Posted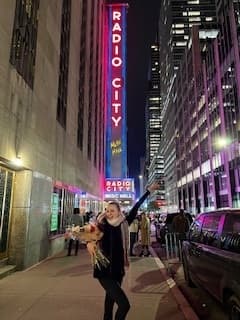 In this continuing series, we're asking accomplished Oklahoma City University dance alumni about their time at one of the country's top dance programs. We get their advice for students considering studying dance and entertainment, and find out how their degree has helped them find success in their chosen field.
Today we hear from Audrey Schultz, a 2019 Dance and Entertainment graduate. After graduating from OCU, Audrey moved to the Washington, D.C., area to work for an audio/visual company alongside fellow OCU alumni. While there, she coordinated events for high-profile clients all over D.C. and worked in beautiful venues using and building on the knowledge she gained at OCU. She also taught classes at a studio in Maryland where she was able to choreograph and perform in shows, execute administrative duties and assist in running the school.
In the summer of 2021, Audrey moved to New York City and got the opportunity to become part of the Radio City Christmas Spectacular as a Rockette!

Q: What were the most influential moments of your time at the Ann Lacy School of American Dance and Entertainment?
A: Besides the amazing faculty, finding upperclassman who were doing things that I wanted to do one day was very influential. I would look at the management majors above me and wonder how they knew about all the moving parts in the theater. One day, that was me completing those tasks and teaching those younger than me. I think it's important to find friends and peers that you feel comfortable with and are able to go to with questions – that sense of community will create friendships that last a lifetime! I also had amazing professors who guided me and pushed me to go past my limits because they believed in all my abilities and saw my potential before I did.
Q: What values have you carried on to your post-graduate career that you learned from Oklahoma City University's Dance and Entertainment department?
A: Working hard and treating others with respect will get you very far in life. When you find something you really care about and enjoy doing, the work doesn't seem like work, and you make long-lasting relationships that carry you through your career and life.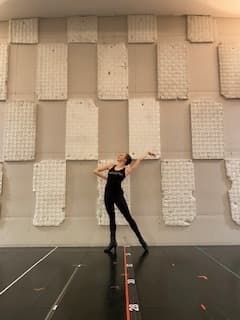 Q: Why did you choose OCU and why should others choose OCU?
A: One of the big reasons I chose OCU was because of the tap program. I grew up tap dancing, and I knew I wanted a program that could push my skills in that area. It was a plus when I found out about the management track and decided to pursue that as my degree. Luckily, I was still able to tap every semester while at OCU and learn more about the business side of the entertainment industry. I believe I gained a well-rounded education and have used every aspect of it since graduating.
Q: What advice would you give to students thinking about pursuing a college degree in dance?
A: Finding something you are really passionate about in life is a gift. If you know dance is part of your life, you will make it work. There are so many avenues in the entertainment industry I wasn't even aware of before going to college. After four years at OCU, I was able to go down several paths in the entertainment industry – all of which I'm very passionate about and continue to pursue.
You can learn more about OCU's Ann Lacy School of American Dance and Entertainment by clicking here.