Game Design & Animation at OCU
Posted
A degree in Game Design & Animation means preparing yourself to join an exciting and growing industry where you can pursue a myriad of career paths, from Art Director to Video Game Designer. If you're considering getting a bachelor's in GD&A, you might be asking yourself a few questions: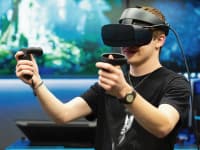 What will I learn?
If you choose to study GD&A, you will study across several disciplines. You will study technology along with artistry, and art history alongside graphic design. You will graduate proficient in 3D animation and digital arts, game audio and music composition, interactive narrative and game storytelling, virtual and augmented reality, and more.
Is a Game Design & Animation major a good fit for me?
A GD&A major can be a good fit for a lot of students because of its broad offerings and extensive career opportunities. It would be the most cohesive for someone who is artistic and creative, enjoys working with technology and computers, and/or has a passion for video games.
What can I do with a Game Design & Animation degree?
Consider a career as a game artist, a cinematic animator, a web designer or a 3D modeler. None of those excite you? How about someone who creates scientific visualizations or military simulations? Maybe you are interested in becoming a cinematographer, cartoonist, character concept artist, matte painter, sound designer or television graphic artist – a GD&A degree opens doors in all those fields and then some.
Why should I consider a Game Design & Animation degree from Oklahoma City University?
In an exciting and growing field, our program stands out from the rest in more ways than one. To start with, all OCU students majoring in Game Design & Animation are automatically awarded a scholarship. In addition to that scholarship, you could be eligible for financial aid from the university at large, making your degree more affordable than you might think!
Additionally, OCU GD&A professors stay actively involved in projects outside of the university. Students in the program benefit from professors who are always in tune with the industry and gaining knowledge in their field. Also elevating OCU's GD&A program is the university's already strong creative arts core. Activities and classes like ceramics, painting, drawing, and photography can serve as additional creative outlets for students and help them grow in their graphic design and animation abilities.
With a Game Design & Animation degree from OCU, opportunities abound. Learn more here.