How to prepare for a 2021 job search
Posted
Looking for jobs when you can't hold face-to-face interviews or attend networking events can be pretty challenging. We hate to report that COVID-19 didn't really take your job hunt into consideration. But it isn't impossible! In fact, adapting to a virtual application/interview process has allowed several companies to connect with applicants when everyone would have otherwise been limited to where and when they could travel.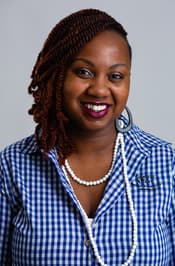 To answer some questions about how OCU students and alumni can set themselves up for success in a 2021 job search, we asked our resident expert Kanika Brown, who serves as the director of OCU's Career Services team.

Q: How does your team prepare students and alumni to enter the workforce?
A: Our team assists students with professional development documents such as resume and cover letter creation and review, mock interviews, internship and job searches, networking and salary negotiation. Alumni are also able to utilize our office in the same ways as current students. If they are looking to refresh their resume or practice interviewing, we can assist them with that.
Q: What skills are employers looking for during the COVID-19 era?
A: The top skills employers are looking for in 2021 graduates are: teamwork, communication, time management, problem-solving, creativity, leadership, organization, emotional intelligence, decision-making, digital technology, professionalism/work ethic, and stress-management. These skills used to be considered "soft skills," but in the career service industry, we like to call them "power skills."
Q: How early can students start taking on internships and part-time positions in their chosen fields?
A: Students should start to look for internships the summer after sophomore year. Some majors may require internships for credit, so checking with an advisor is key. If a student is able to find a part-time position in their field, that is great, and they should take on the opportunity. When thinking about internships, it doesn't have to always be specific in the student's future field but should be something a student can build upon their "power skills" and also something that they find an interest in. This is something Career Services can assist students with and have a discussion about.
Q: Does anything different go into preparation for remote positions/Zoom interviews?
A: Students should prepare as they always have, using different job search websites such as Handshake, our OCU career services job and internship management site. For the times we are living in now, employers will be utilizing Zoom more for interviewing as well as the increase in remote work positions. Career Services can help students prepare for Zoom interviews with tips and techniques as well as practicing them. With remote work, it is important for the potential candidate to ask about resources that they may need such as laptops, printers, Wi-Fi, etc.
Q: How have you seen trends and expectations change since the start of a pandemic?
A: In the beginning of the pandemic, we did see that a lot of internships were getting canceled or postponed. Also, jobs were being moved to remote instead of in person. Employers changed their recruiting methods, as well; a lot of career services offices like ours moved to virtual career fairs. This challenged not only students but also recruiters to learn a new way of recruiting to find the best candidates for their open positions. As of now, the same things are still in place as far as virtual recruiting and internships and jobs being moved to remote or hybrid schedules. All these things also depend on the industry.
Q: What advice would you give current and incoming students and alumni who will be looking for jobs or internships this year?
A: I would say be patient, be open, and think outside of the box! The key is to gain transferrable skills, skills that can be used in any career. Once you realize this and take all you can from your experiences, the sky is the limit!
---
Tips for your virtual job search in the age of COVID-19:
1. Get comfortable with virtual networking
Join Facebook and LinkedIn groups for professional networking in your area (or the area you want to be in) or in your industry. For example, if you're looking for a marketing position, there's a group for Media and Marketing Professionals Worldwide. Social media can be exhausting, but LinkedIn is one of the best resources for a job hunt. (Tip: Check out this guide, What to Put on Your LinkedIn Profile. Top industry experts say employers almost always look at applicants' profiles, even if they didn't apply on LinkedIn.)
If you'd like to stay in your current area, look into local resources like a chamber of commerce or workforce office. Oklahoma City has a great community of young professionals who can help you build your network. Several organizations are hosting virtual events to make sure communities still have the same level of engagement despite not being able to gather in large groups.
2. Learn what to look for in a job posting
Make sure you set your expectations for salary, location, hours per week, and job tasks before you start looking for positions and prioritize the listings that fit in your parameters. LinkedIn, Indeed, ZipRecruiter, and Monster all have filters that can help make this part a little easier.
Qualifications aren't always set in stone, but you still need to pay attention to them. You might not be considered for a position if you don't meet the minimum qualifications, but it doesn't hurt to apply. It might just pay off if you're a good fit. Be sure to highlight your power skills in your resume and cover letter. And if you need to work on your qualifications, we can help!
If you've completely filled out your LinkedIn profile, you can look for jobs that have an "easy apply," which basically just means you can use the information you've already entered instead of writing a cover letter and filling out an application.
3. Take advantage of the time we live in
It's a little scary to be inundated with information 24/7 thanks to the internet, but it's also your best tool when deciding if a job might be a good fit. Some questions to keep in your mind during the application process: Does this employer have a good relationship with the community? Does it provide the benefits I need to take care of myself and/or my family? Does it have an unusually high turnover rate, and can I find a reasonable explanation if so? Could I see myself enjoying a job here after a few years working with the people who interviewed me? Several of these are completely personal, but you can get a head start on learning about a company before you even apply by researching via Google, Glassdoor, and any connections you might have to someone who worked there. A unique consideration this year is how an employer has handled the pandemic, i.e. are they supporting their employees in creative ways or allowing them to work from home?
Likewise, make sure your resume and interview skills are up to industry standards. (Career Services can help with that.) If you find a job you would really like to get, make sure you tailor your resume and cover letter to fit with highlighted skills and keywords. (Tip: We don't know Pete, but for his sake, proofread, proofread, proofread.)
Any hiring manager is generally just an email away. It's much easier to reach them if you want to send a follow-up note or ask a question about a job posting. Don't hesitate, though; the earlier you submit an application the better!
4. Don't get discouraged
The easier a job application is for you to complete, the more likely you have some competition. Apply to as many jobs as you can without overloading your plate to increase your chances of an interview.
Don't shy away from using your resources. Whether you're a recent graduate or a seasoned professional getting back in the ring after being let go, it's important to utilize your network in your job search. There's nothing embarrassing about telling your Facebook friends or LinkedIn connections that you're looking for new opportunities. You might know someone who has an in with a great company who wouldn't be able to help you if they didn't know about your job search.
Like Kanika said, the sky's the limit. Don't count yourself out of a job because you think they won't choose you; instead, make them understand why choosing you would be the best thing they could do!
If you have some unanswered questions about how you should be preparing for your career, contact our Career Services team at [email protected] or 405-208-5171. Everyone is encouraged to follow ocucareers on Facebook, Instagram, Twitter, and LinkedIn to stay in the know!