OCU Kramer School of Nursing awards its first DAISY Award for an Extraordinary Nursing Faculty and Nursing Student
Posted
In 2021, for the first time, the Kramer School of Nursing partnered with The DAISY Foundation to present DAISY awards to outstanding faculty and students.
The Kramer School of Nursing's DAISY Award recipients for the fall 2021 semester were BSN graduate Heyab Tsegay and professor Beth Pitman. The awards were presented in December at the annual fall pinning & recognition ceremony at the OCU Chapel.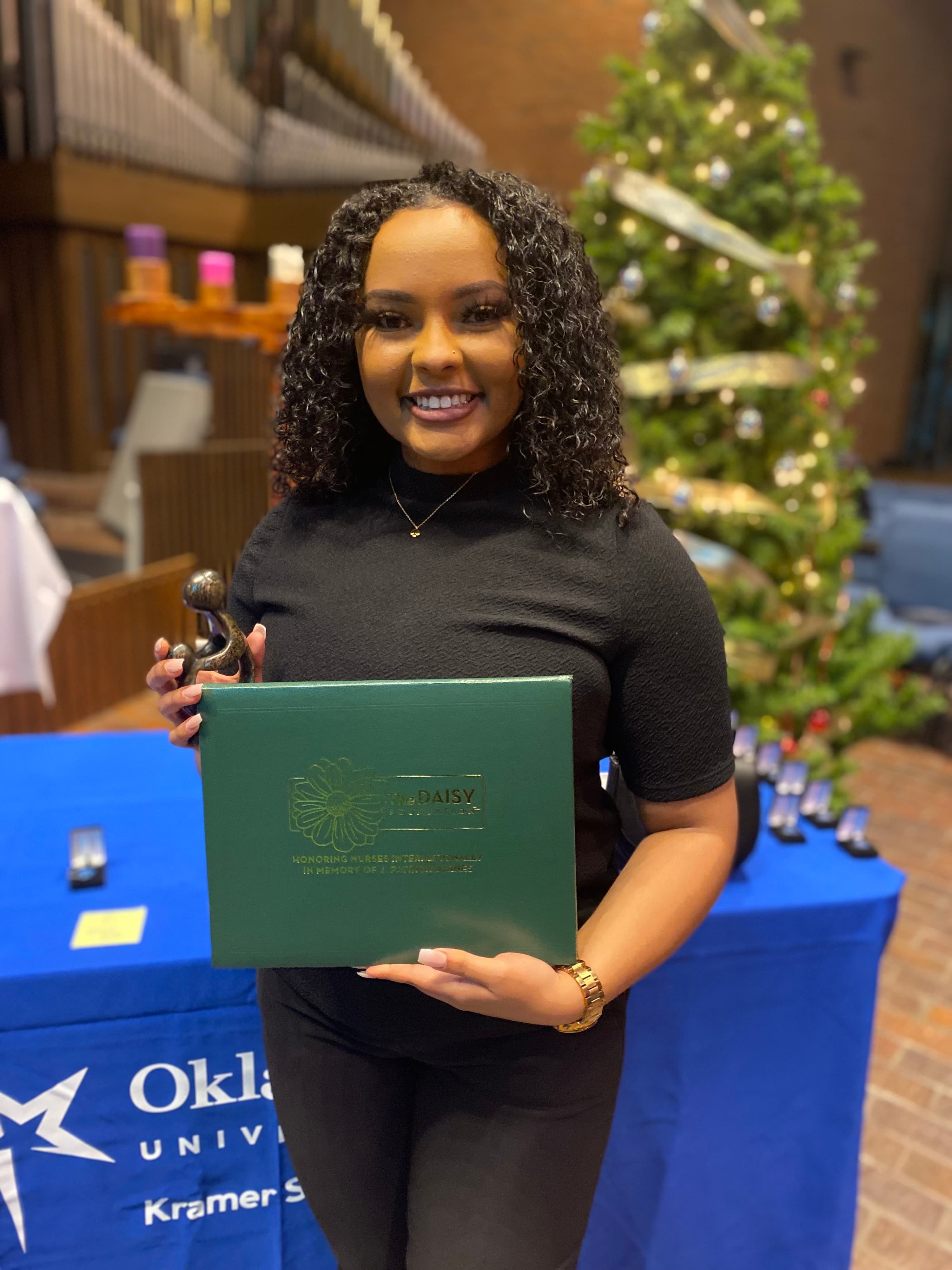 The DAISY Foundation was founded with the purpose of expressing gratitude to nurses with programs that recognize them for the extraordinary, compassionate and skillful care they provide patients and families. By honoring compassionate nurses, The DAISY Foundation hopes to reinforce the importance of compassion in health care.
An acronym for Diseases Attacking the Immune System, The DAISY Foundation was established in 1999 in memory of J. Patrick Barnes. Barnes died at the age of 33 from complications of the auto-immune disease Idiopathic Thrombocytopenic Purpura (ITP). Patrick's family was touched by the remarkable compassion and clinical skill demonstrated by Patrick's nurses during his illness – thus, The DAISY Foundation was born. The DAISY Foundation is dedicated to saying "thank you" to nurses and recognizes exceptional nurses everywhere.
The DAISY Foundation expanded its flagship brand The DAISY Award for Extraordinary Nurses to academic institutions in order to recognize the faculty who inspire compassionate care in their students and the students who demonstrate it during their education.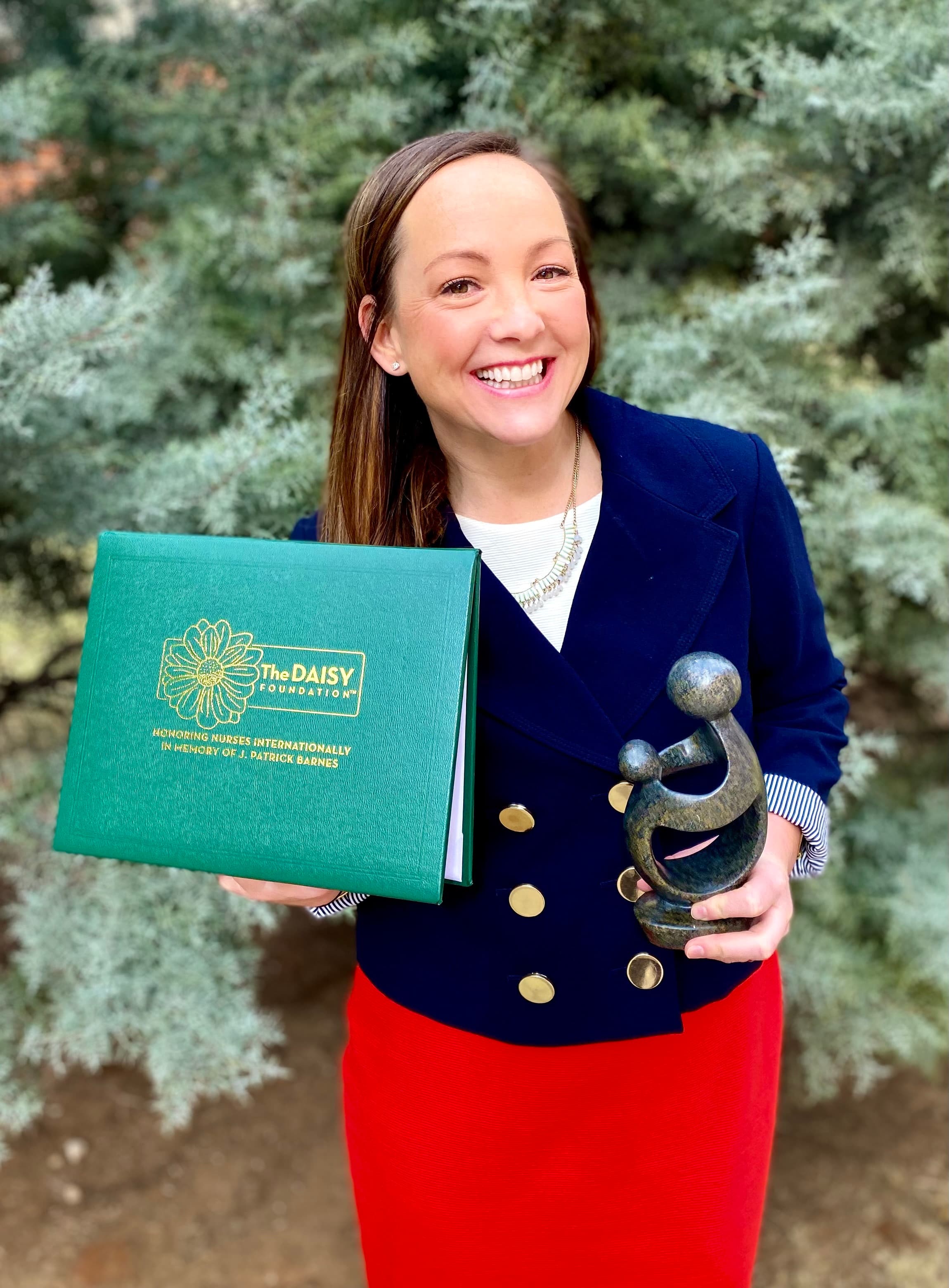 "We honor faculty who inspire nurses to care like Patrick's nurses cared for him and for our family," Bonnie Barnes, CEO and co-founder of The DAISY Foundation, said. "Recognizing and celebrating nursing students for the above-and-beyond care and compassion they show to patients and their families will be a strong reminder that nursing is not all about tasks and technology."
Nursing faculty and students may be nominated by colleagues, peers, patients, families or alumni. The award recipients are chosen by a committee at the Kramer School of Nursing to receive The DAISY Award, which is presented once or twice a year at the pinning & recognition ceremony. Each honoree receives a certificate, a DAISY Award pin and a beautiful and meaningful sculpture called "A Healer's Touch," hand-carved by artists of the Shona tribe in Zimbabwe.
"We are excited to partner with The DAISY Foundation to offer these awards and recognize our deserving faculty and students," said Dr. Gina Crawford, interim dean of OCU's Kramer School of Nursing and College of Health Professions.
From Tsegay's nomination:
"Her display of compassion when providing care for patients is remarkable and truly one of a kind. She made it her mission to ensure that all patients receive equal care. The nursing world needs more truly compassionate nurses, and Heyab is exactly that and more."
From Professor Pitman's nomination:
"Professor Pitman is one of the kindest, most inclusive professors I have ever met. She takes her time to ensure we actually understand the material she lectures over. I felt excited to come to class knowing she would be lecturing that day."