Join students from around the country for a musical month in Tuscany! At the OperArezzo young artist program, you will spend your summer studying with renowned artists in Arezzo, Italy. Arezzo is the birthplace of modern music notation, located only one hour from Florence, birthplace of the Italian Renaissance. Arezzo is also home to the Accademia dell'Arte, a school of theatre, art, and music, specializing in Italian theatre, music, and dance programs for students from around the world that hosts OperArezzo.
OperArezzo expands the horizons of singers with an academic and musical experience in this magical setting. Young Artists study the Italian language daily (with a college credit option) at whatever level is appropriate. Language courses are taught by Italian faculty who are certified to teach Italian as a second language to English speakers. Opera scenes will be coached and performed with Italian and European faculty, all while absorbing the culture and history of beautiful Tuscany. Guided excursions to Florence and historical sites in and around Arezzo connect singers to classical and contemporary Italy.
Singers live in shared, dorm-style housing in the historic Villa Godiola. Just outside the center of Arrezzo, this villa is surrounded by olive groves and vineyards and overlooks the city. Villa Godiola includes the student dormitory, Mensa (dining hall), Limonaia (dedicated student social space), and several studios and classrooms. Family-style meals are served daily five days a week in the Mensa at Villa Godiola, where students enjoy traditional Italian dishes and picturesque views. Three meals a day, five days a week are provided in your fee: breakfast and two hot meals (plus desserts!) are prepared fresh by wonderful chefs and their team.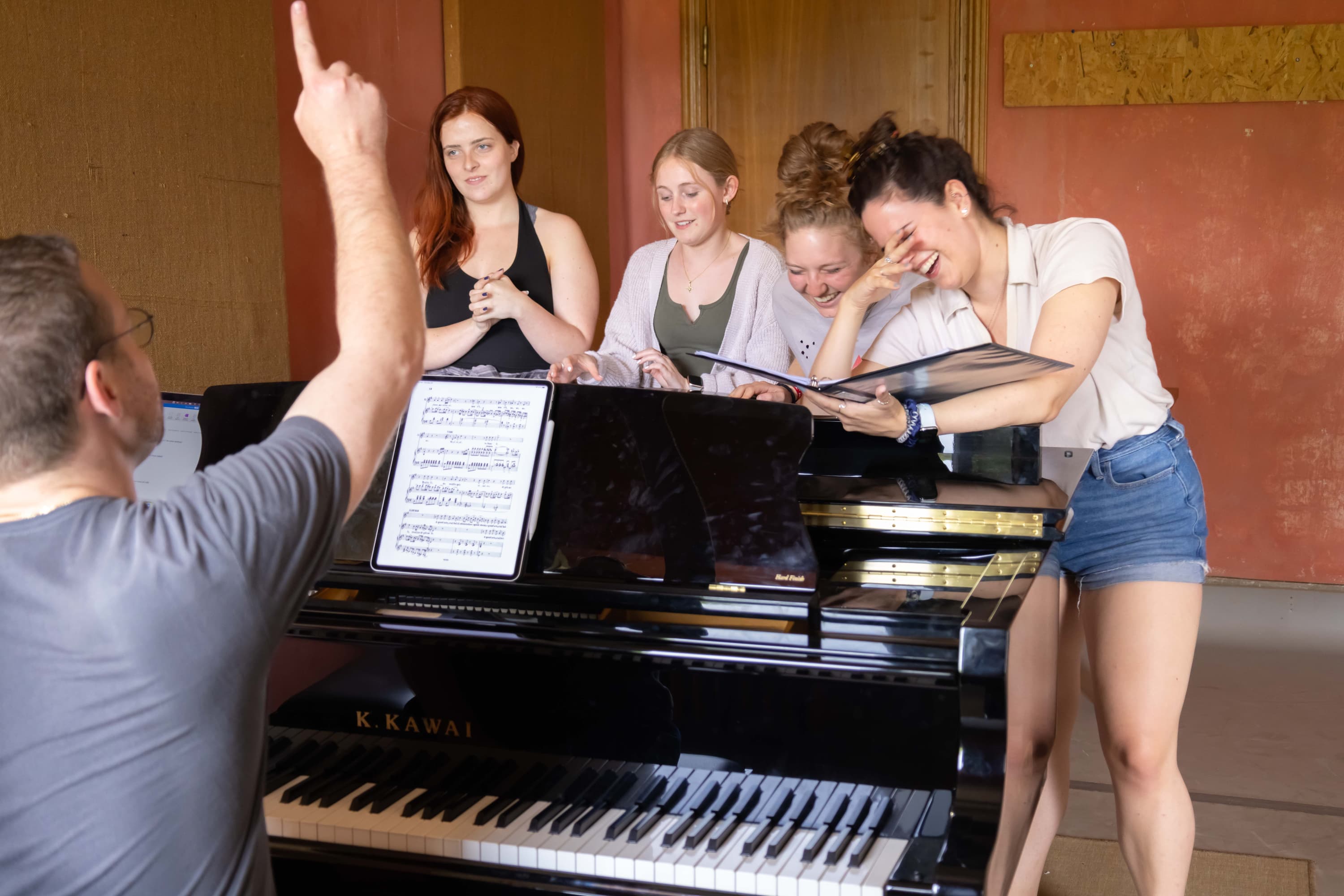 Included in your four-week program:
Performances in 2+ opera scenes (casting is based on your voice type and the other participants in the program)
Coaching, staging, and music rehearsals run by expert Italian faculty
Regular guest artist masterclasses
Daily Italian language classes, with the option for college credit
Italian diction and Italian opera history courses taught by local experts
Tours of Florence and historic areas of Arezzo
Weekends off, offering time for additional excursions at your leisure
Dormitory living, on-campus, where everything is walkable
Additional cultural experiences, including a pasta making class
A summer you'll truly never forget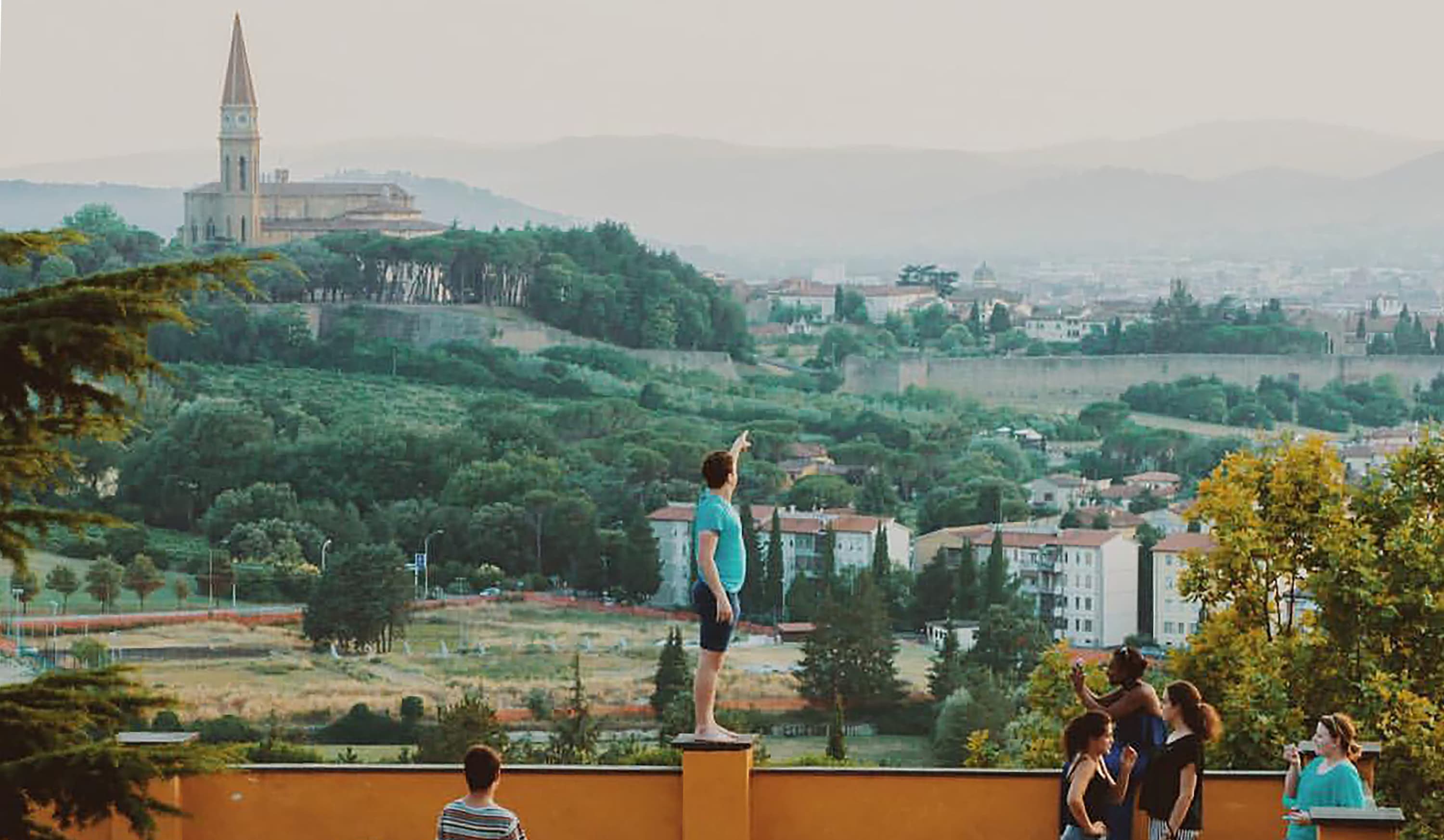 Application Information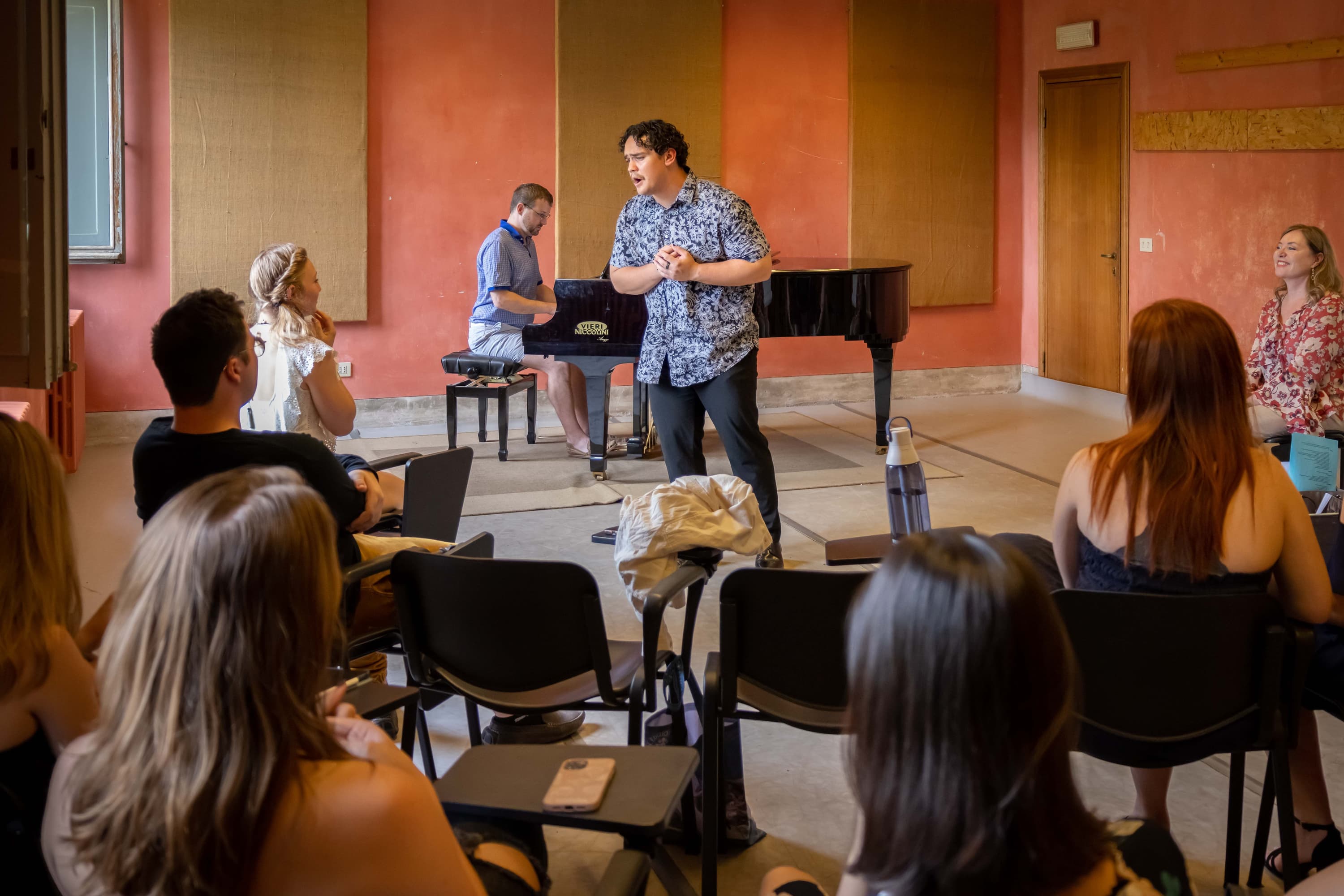 In addition to the application (linked below), an audition will be required for acceptance. Auditions will be taken and students accepted on a rolling basis. We have a limited number of spots available, so you are encouraged to apply and audition as soon as possible. Oklahoma City University Students: Please contact Joe Fitzgerald via e-mail at [email protected] to arrange an in-person audition. Please prepare the following:
Two Contrasting Arias - one must be in Italian, the second can be in Italian or a language of your choice. The singer may substitute an art song for their second selection.
Singers who are not Oklahoma City University students will need to select the "Supplemental Materials - OperArezzo" tab on the application website and submit video recordings of their audition selections. Please follow all directions on the Accademia's website for audition consideration.
Faculty
Silvia Vajente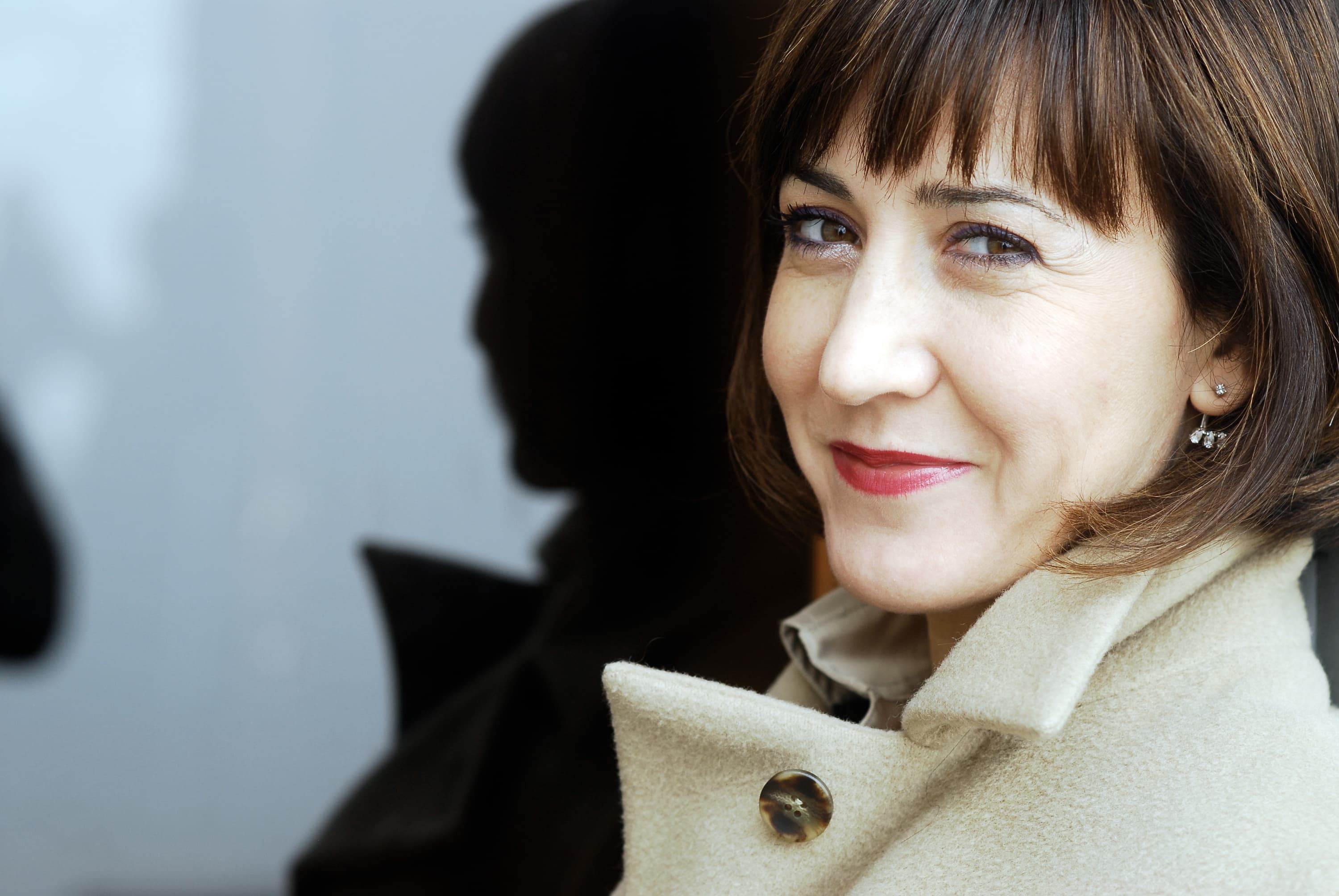 Soprano Silvia Vajente was born in Arezzo (Italy). She graduated in opera singing at the Conservatorio Giovanni Battista Martini (Bologna Conservatory) where she studied with Mrs D. Debolini. Afterwards, she attended several lyrical and chamber music theatre courses, as well as masterclasses with L. Serra, C. Desderi and J. Savall. Particularly interested in ancient and baroque music, she continued studying with Jill Feldman and Gloria Banditelli.
She won the I Concorso internazionale di canto barocco F. Provenzale, Napoli 2004 (she won the second prize, the first one was not assigned); the Premio Bonporti, the IX edition of the Chamber Music International competition on period instruments, Rovereto 2006, with the harpsichord player G. Barchiesi (she won the third prize of the international jury and the special prize of the public).
She has sung as a soloist in Italy, Germany, France, Spain, Portugal, Holland, Slovenia, Czech Republic, Finland, Brazil, Chile, Argentina, USA, Canada collaborating particularly with several groups specialized in the baroque repertoire (as the Bozen Baroque Orchestra, Modo antique, L'arte dell'arco, Il canto di Orfeo, La Sfera Armoniosa, La Venexiana, Orchestra barocca di Bologna, Il Rossignolo, Epoca Barocca,Cantar Lontano, L'Aura Soave, Cappella Artemisia, Athestis Chorus, Ensemble Homme Armè of Firenze, Concerto Palatino) and singing at important Festivals like the Festival Monteverdi of Cremona (where she collaborated with the other soloist soprano Emma Kirkby), Folle Journée-Harmonie des Nations, Festival Fränkischer Sommer, Festival internazionale "Da Bach a Bartok" of Imola, Pergolesi Spontini Festival of Jesi, Festival Opera Barga, AltstadtherbstFestival of Dusseldorf, Settembre Musica of Teatro della Pergola in Firenze, Festival Musica Antiga al Palau de L'Abat of Valencia (Spain), BolognaFestival, Stagione della Scuola Normale di Pisa, Festival S. Maurizio Musica e Poesia (Milan), Festival Potsdam-Sanssouci (Germany), Festival Contemporaneamente Barocco of Siena, Settimane Musicali dell'Olimpico of Vicenza, Festival Barocco di Viterbo, Sagra Musicale Umbra, Musik Festival of Brema, Festival Galuppi of Venezia, Festival Barocco of Rome, Osterfestival of Hall in Tirol (Austria).
She has sung in operas and oratorios by Rossi, Cavalli, Haendel, Pergolesi, Piccinni, Scarlatti, Vivaldi, Galuppi, Rossini, Ravel, Britten, in various theatres all over Italy and foreign countries. She also sings contemporary music. In 2010 she sang Pierrot Lunaire by Schoenberg at Cantiere Internazionale d'arte of Montepulciano.
Her discography includes: L'equivoco stravagante for the KiccoMusic and Scala di seta for the Bongiovanni; sacred music by the composer G.A. Perti for Tactus; Secular Madrigals and arias of solo voice by Frescobaldi for the Brilliant Classics (with Modo Antiquo); the opera La Rosinda by F. Cavalli for Ludi musici; Italian Love Cantatas with Epoca Barocca for CPO, Scintillate, amicae stellae: Christmas in the Convents of 16th- and 17th-century Italy with Cappella Artemisia for Tactus. She recorded also for RAI5 singing the famous Lamento di Arianna by Monteverdi with Modo Antiquo.
In addition to singing, she studied oboe and worked as a professional oboe-player until 2000 playing with Orchestra Regionale Toscana, Accademia di Santa Cecilia, Orchestra Sinfonica Toscanini, Orchestra sinfonica of Savona, Teatro lirico di Cagliari, Orchestra Verdi of Milan, conducted by great conductor as Sawallish, Metha, Webb, Tate. CD recordings were made with the Ensemble italiano fiati for Tactus, with the I virtuosi Italiani for the label Chandos.
She graduated in musicology at the Scuola di Paleografia e Filologia Musicale of Cremona (University of Pavia) with a dissertation on the oratorio "La Resurrezione" by G. F. Haendel. Silvia Vajente graduated in Choral Conducting (3 years degree course) at the Fondazione Guido d'Arezzo https://www.fondazioneguidodar.... She studied with internationally renowned maestros such as Gary Graden, Ragnar Rasmussen, Lorenzo Donati, Carlo Pavese, Xavier Busto, Stojan Kuret, and Basilio Astulez.
She was a keynote speaker at the third national conference 'Lo strumento coro, dirigere e cantare' (Choir as an instrument, Conducting and Singing).
She taught singing at Istituto di Musica of Montepulciano (SI) for ten years and at the moment she is teaching lyrical singing at the triennio of Scuola di Musica di Fiesole (CaMu) and vocal technique at the High School for choir conductors of the Guido dʻArezzo Foundation.
She is also the founder and conductor of Viscantus vocal ensemble of Arezzo. She conducted I Cantori del Borgo of Sansepolcro and she is the creator of Recicanto, an experimental workshop to raise awareness of opera for children and adults together.
She is currently teaching Vocal Theory at the Fondazione Guido d'Arezzo. She is also a member of the judging panel of the Conducting department.
Giovanni Firpo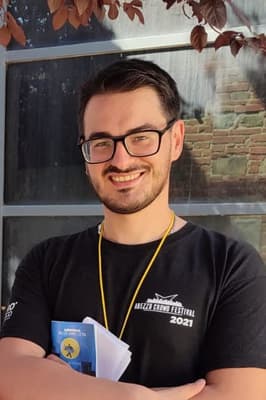 Giovanni Firpo is a native of Arezzo. He is an actor and theatre director. After a Bachelor's in Ethno-Anthropological Sciences from the University of Bologna, he graduated as an Actor from the Alessandra Galante Garrone Scuola di Teatro di Bologna (2012) and as a Director from the Silvio d'Amico Accademia Nazionale d'Arte Drammatica in Rome (2015) where he served as a board member of the international organization E:UTSA (Europe:Union of Theatre Schools and Academies) for 3 years.
Since 2012, he has been a participant at the International Summer Program of the Watermill Center, in Long Island, New York, founded by Robert Wilson in 1992. He has collaborated with the Texan director in performances (dancer for Dom Perignon at the Palace of Versailles) and in Opera: Verdi's Macbeth in São Paulo (Brazil) and Bologna as movement coach, La Traviata in Linz (Austria) and Perm (Russia) and Le Trouvere in Parma and Bologna; Puccini's Turandot in Madrid as assistant director, Müller's Hamletmachine as co-director and stage manager in Spoleto (Festival dei 2 Mondi), which toured in Italy during 2017 and 2018 (Piccolo Teatro Milano, Auditorium della Musica di Roma, Teatro della Pergola di Firenze).
In 2016 he started teaching at the Alessandra Galante Garrone Scuola di Teatro di Bologna both in the fields of Acting (with focuses on Mask and Music) and Organization and Management.
He is Founder of Officine Montecristo, a company based in Arezzo for organization, production and distribution of Theatre and Music works, with which he toured his shows in the Czech Republic, Germany, India and Italy in national and international festivals, such as the ITFOK - International Theatre Festival of Kerala, India (2017), UWE, Munich (2015), SETKANI/ENCOUNTER, Brno (2015), Inventaria, Rome (2017), Salviamo i Talenti @ Teatro Vittoria, Rome (2017), and Cosa sono le nuvole?, Lucca, (2017).
In 2018 his work Lonely was accepted among the finalists of the Premio Scenario Infanzia.
Since May 2019 he has been a producer of the Arezzo Crowd Festival, the Participative Festival for Young Theatre. The Festival counts 40 shows and performances every year with more than 30 partners, and focuses on creating an artistic committee of young amateurs that will learn how to create events throughout the year with the tutoring of a network of companies and professionals.
In 2020 he created Arezzo Crowd TV, a platform to share cultural meetings, talks, and lectures during the pandemic which reached more than 200,000 contacts in the first 4 months of operation and hosted more than 90 digital events in one year.
Lisa Love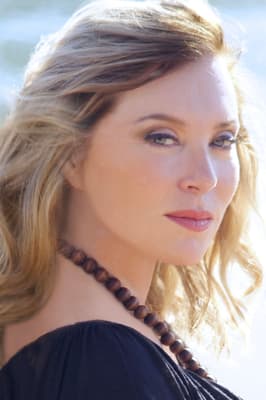 Lisa Reagan Love is a native of Oklahoma. She began studying piano with Dr. Clarence Burg at Oklahoma City University's music preparatory school at the age of 7. She continued her musical training there studying voice with Florence Birdwell at the age of 15. She received her Bachelor of Music in vocal performance and a minor in piano from Oklahoma City University and her Master of Music in opera performance at the University of Maryland's Opera Studio under the direction of Leon Major. Lisa continued her musical training in piano with Maria Stoesser in Washington DC and vocal training with Marinana Busching (Peabody Conservatory of Music), Nancy Milnes, and John Fiorito in NYC. Lisa has been a member of AGMA and NATS since 1989.
Lisa performed as a soloist for many special events including the Smithsonian Awards, the Corcoran Concert Series, at the White House, and for Presidents and Heads of State around the world including President Reagan, George Bush, King Hussein of Jordan, Oscar Arias of Costa Rica, and the Premier of China Li Peng amongst others. She became a resident member of the Washington National Opera in 1989 where she performed at the John F Kennedy Center for the Performing Arts until 2008. Lisa also performed with the Wolf Trap Opera Company and Catholic University's Summer Opera programs.
Lisa worked as a professor of voice at Shenandoah Conservatory of Music from 1998 until 2008 when she moved to Oklahoma City to join the Wanda Bass School of Music's faculty as a professor of voice. Lisa was invited to teach masterclasses in Salzburg, Austria as a part of the Frost School of Music's summer opera program. Her style of teaching emphasizes the power of communicating the libretto with honesty and commitment. She believes that the classical singer should not only be a great singer but should also be a great actor. Lisa was influenced by her training with Florence Birdwell and opera director Leon Major (The Empty Voice) in a way that puts great importance on being in the moment and completely honest with every sung word.
Since returning to Oklahoma Lisa has had the privilege of performing as a soloist with Canterbury Voices and the Oklahoma Philharmonic at the Civic Center.
Lisa teaches a variety of styles of singing including classical, music theater and pop. She herself began in musical theater at the age of 16 where she played Amy in Where's Charley? at Oklahoma City's Lyric Theater. She went on to perform in many musicals including performances at the Lyric Theater, Wichita Music Theater, the Kennedy Center, Signature Theater, Terrace Theater, and the Folger Theater.
Lisa is also a composer and has composed 7 albums of original music. Her music can be found on www.lisareagan.com. Her song A l'infini was featured on Bravo TV's reality series, Project Runway. She is currently recording a solo album of songs she has composed to some of her favorite poems which will be released in March 2022. Lisa is grateful to be working again with Grammy Nominated and Tony Award winner Jamshied Sharifi, who produced and arranged her last album Shunia, which is an album of chants and meditations.
Joe Fitzgerald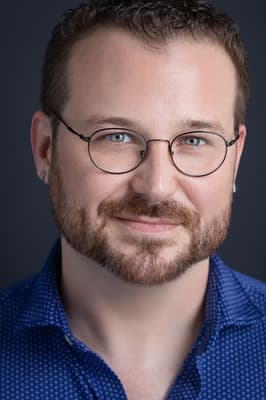 Joe Fitzgerald is a native of Topeka, Kansas who has lived in Oklahoma City since 2015. He is the founding Artistic Director and Director of Admissions for OperArezzo. He received his education at Washburn University in Topeka, KS (BA Music - Organ) and OCU (MM - Vocal Coaching) where he assisted in many opera and musical theatre productions. During his time as an OCU student, he assisted on all three award-winning shows during the record-breaking 2016-2017 season (Jackie O - Assistant Music Director, Don Pasquale – Chorus Master, and Evita - Orchestra.) His past teachers and mentors include Maestro Jan McDaniel, renowned handbell director and organist Jane Anderson, organists Dr. Elisa Williams Bickers & Norma Pettijohn, choir director Steve Eubank, and pianists Dr. Shiao-Li Ding, Dr. Linda Chen, & Jim Rivers.
With more than 40 show credits to his name as diverse as Spamalot and Gianni Schicchi, he is an accomplished répétiteur, vocal coach, chorus master, and music director. He has been the Associate Music Director for Painted Sky Opera in Oklahoma City from its inaugural season in 2016 through the present time, serving as chorus master and répétiteur for such productions that include Tosca, La Traviata, and Rigoletto. His operatic music directing debut was a concert production of Ponchielli's La Gioconda in 2015.
Equally at home as a church organist and vocal coach, Mr. Fitzgerald's musical career spans back to childhood when he first started playing for church services. His first organist appointment was at the age of 17 at the North Topeka Baptist Church. He served several churches in Northeast Kansas as organist and/or choir director, including First United Methodist Church of Topeka, First Christian Church of Topeka, and Assumption Catholic Church. He is currently organist at Hillcrest Presbyterian Church in Oklahoma City.
He has served as accompanist for a variety of academic and professional ensembles, including several years at Topeka High School as choral accompanist and as a music director for Topeka Civic Theatre & Academy. As pianist at Topeka High School, his audiences included two governors of Kansas, cabinet secretaries, and former First Lady Michelle Obama. For two summer seasons, he was a piano fellow at the Bay View Music Festival, and in 2018 served on the faculty of the Taos Opera Institute. Fitzgerald has also worked on productions at Helen Hocker Theatre, the Metropolitan Ballet of Topeka, the Pollard Theatre, and Poteet Theater and Academy, and has performed with the Enid Symphony Orchestra. He has taught piano lessons and accompanied singers and instrumentalists for more than 15 years. After having served on the Bass School of Music faculty for several years, Mr. Fitzgerald is currently a vocal coach, diction professor, and music director at the University of Central Oklahoma.