Employee Spotlight: Mark Stewart
Posted
In today's Employee Spotlight, we meet a member of the Petree College of Arts & Sciences faculty.
Mark Stewart is a visiting associate professor of English who has been at OCU for eight years. Let's check out Mark's spotlight answers!
College experience: I attended OCU for my Master's degree in creative writing.
In what city did you grow up: Oklahoma City
Why is helping students important to you: I love to work with freshmen in my classes because they're just entering the college experience. This is an opportunity to open up a whole world for them. My favorite thing in teaching is that moment when you lead your class into making a connection that completely changes their point of view and gives them an opportunity to see new sides to something. Watching the light switch on in their eyes tells me that they're growing, which is half of what college is all about.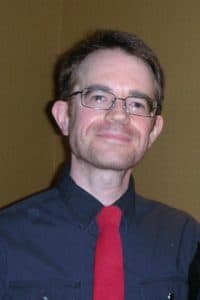 What's one piece of advice you'd give to an OCU student: Always remember what a privilege it is to be able to go to college and how many people out there who work hard to be able to go. If you enter college humbly, you can reap incredible rewards.
What are some of your favorite things to do in your free time: You'd think that after talking about reading and writing all day at work, I wouldn't want anything to do with it when I get home, but I spend most of my free time doing those things because they bring me a lot of joy and satisfaction.
You're going to be stranded on a deserted island and you can only take one movie and one TV show/series to watch. What would you take: I get something new out of the experience every time I watch Twin Peaks, so I'd be quite happy watching that over and over again on a deserted island. I'm also tempted to say I'd bring Lost, but since I'm stranded on a deserted island, that might be too on the nose.
Favorite flavor of ice cream: Anything with peanut butter cups mixed in.
What's something you like about working at OCU: I love how supportive the English department is. Everyone in the department shows genuine interest in each other and we all work together to become better at what we do.
Do you have any recent professional achievements you'd like to share: Professionally, I'm a year into my PhD. work. It's in-depth work and very exacting, but I've already found so much in it that I share with my students. It's made me a better teacher.
What's one country you'd love to visit, and why: I've always wanted to see Japan. I admit it's because of the food.
Early riser or night owl: Night owl. So much so that I probably should work a night shift.
You're going to attend an OCU event -- do you pick music, dance, theatre or athletics, and why: Theater would be my choice, not just because I enjoy it, but so many of my students are theater majors and I try to go whenever they invite me to their shows. I enjoy seeing them pursue their dream and getting a chance to practice their craft.
What's your best one-sentence sales pitch for why a student should attend OCU: If you want to grow in your understanding of the world and explore your place in it, OCU will do that for you in spades.