Employee Spotlight: Shannon Daly
Posted
The OCU Employee Spotlight continues today on the Nova Blog. We're meeting a relative newcomer to the university -- Shannon Daly from the Admissions department.
Shannon has been an Admissions counselor for about one year, helping prospective students from her office in the Ann Lacy Visitors Center.
Let's check out Shannon's Employee Spotlight answers!
College experience: University of Central Oklahoma (Academy of Contemporary Music); Associate's in Music Business and Bachelor's in Commercial Music with a minor in Arts Entrepreneurship.
In what city did you grow up: Edmond
Why is helping students important to you: I was a first-generation college student. I remember having a lot of questions. Whether students want to go to college first or straight into a career, I want to help them find their best options. As an undergrad, I did a lot of help with international programming, too. There shouldn't be barriers for others to receive a good education and a supportive community.
What's one piece of advice you'd give to an incoming OCU student: Don't be afraid to ask questions! Everyone on campus is there to support you and help you do your best. There is no such thing as a dumb question.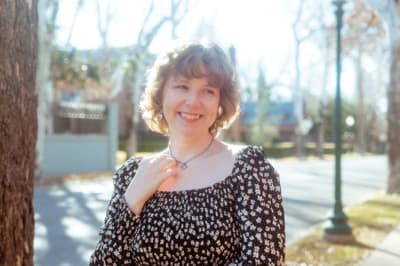 What are some of your favorite things to do in your free time: I enjoy hanging out with my friends -- we like to go to Plant People in OKC, then stop by Waffle Champion for a bite to eat. My friends and I share the same love of arts and crafts, too (painting, crochet, etc.). I also spend a lot of time with my family.
You're going to be stranded on a deserted island and you can only take one movie and one TV show/series to watch. What would you take: Movie: Fantastic Mr. Fox; TV Show: Ru Paul's Drag Race
Favorite flavor of ice cream: Mint chocolate chip!
What's something you like about working at OCU: I love how involved OCU is with the community. I enjoy seeing us volunteering and supporting the others who live in Oklahoma City and the metro.
What's one country you'd love to visit, and why: I would love to visit Ireland. My family genealogy traces back to southern Ireland. I think it would be awesome to go see where my family came from, and if I still have anyone over there!
What's your top-rated metro-area pizza place: Empire Slice -- they have the best gluten-free pizza!
Early riser or night owl: Early riser
You're going to attend an OCU event -- do you pick music, dance, theatre or athletics, and why: If I had to pick one (that's a really hard choice!), I would pick music. I grew up playing the violin in middle school and high school, and my degrees are involved with music.
What's your best one-sentence sales pitch for why a student should attend OCU: OCU is your home away from home!