OCU business grad thanks faculty for exciting opportunities
Posted
When Sajin Poos was a junior in high school, she and her dad drove from their home in Edmond to Oklahoma City University to learn more about the Meinders School of Business. When she heard about the full-tuition Meinders Leadership Fellows Scholarship provided by donor Herman Meinders, Poos' dad tapped her on the shoulder and said, "You have to look into this."
Four years later, she's graduating with a first-place finish in a prestigious business analytics competition and a job as a financial economist at a private equity firm.
"Mr. Meinders — and the Meinders Leadership Fellows Scholarship — is the reason I am able to attend college debt-free," she said.
Her educational experience has been one of discovery.
"At first, I wanted to go to art school," Poos said. "But then, I took an AP Economics class my junior year of high school, and I thought, 'Wait! I didn't know math could be fun.'"
She started at OCU as a business administration major, but when she took Jon Willner's Honors Principles of Microeconomics class, "He sold me — within weeks, I changed my major to econ."
Poos was effervescent with joy and gratitude.
"His class is just so fun," she said. "I like talking about money and the economy, but in his class, we talk about incentives structures, behavior … so many aspects of psychology are embedded into the world of economics. We're talking about why people do what they do."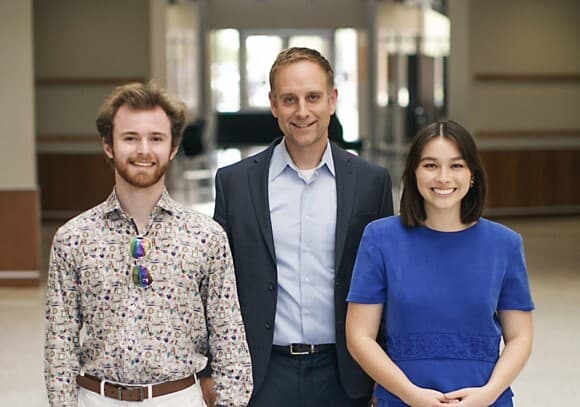 She also minored in French and considers future graduate school specialties wide open.
Last spring, Poos enrolled in Econometrics 2, an advanced applied statistics course.
"Dr. (Jacob) Dearmon is a genius, so it's him trying to translate genius to undergraduate students," she said.
This wasn't just a class. Enrolling meant signing up to compete in Manhattan College's Business Analytics Competition, which pitted 27 teams from around the world against one another. Teams had several months to analyze COVID cases, deaths, positive test rates, and interventions to make worldwide policy recommendations. OCU had placed first the previous year, so the bar was high — and so was the competition, including Washington University in St. Louis.
Poos and classmate Teegin Groves worked for months to sift through numbers and develop data-driven policy recommendations. They presented their research and realized no other college's team came close to the depth of their report, which both encouraged and worried Poos. Had they done it wrong? Other teams grouped countries by gross domestic product or continent, but OCU's was the only team to recommend a different policy for every country in the world.
Poos couldn't believe it when they won — she told Groves, "No way! There's no way!" — and was thrilled to win a cash prize that allowed her to study abroad in Spain last summer, since COVID had canceled previous plans.
Their win propelled Poos from working at the Economic Research & Policy Institute at OCU to a data analytics internship at Thorberg Collectorate, an Oklahoma City private equity firm where she has now secured a job as a financial economist following graduation.
"Any opportunity that I have gotten in the business world has been through a faculty member or an OCU connection," Poos said. "I feel like that story epitomizes the Meinders experience."
She said scholarship donors and the Oklahoma City community continue to motivate her, and she wants to reinvest in the community after commencement.
"Being born and raised here and having nearly my entire education supported by fellow Oklahomans who believe in me is the reason I continue to work hard," Poos said. "I really want to contribute to this community that has provided me with nothing but encouragement and resources."