New Student Orientation Leaders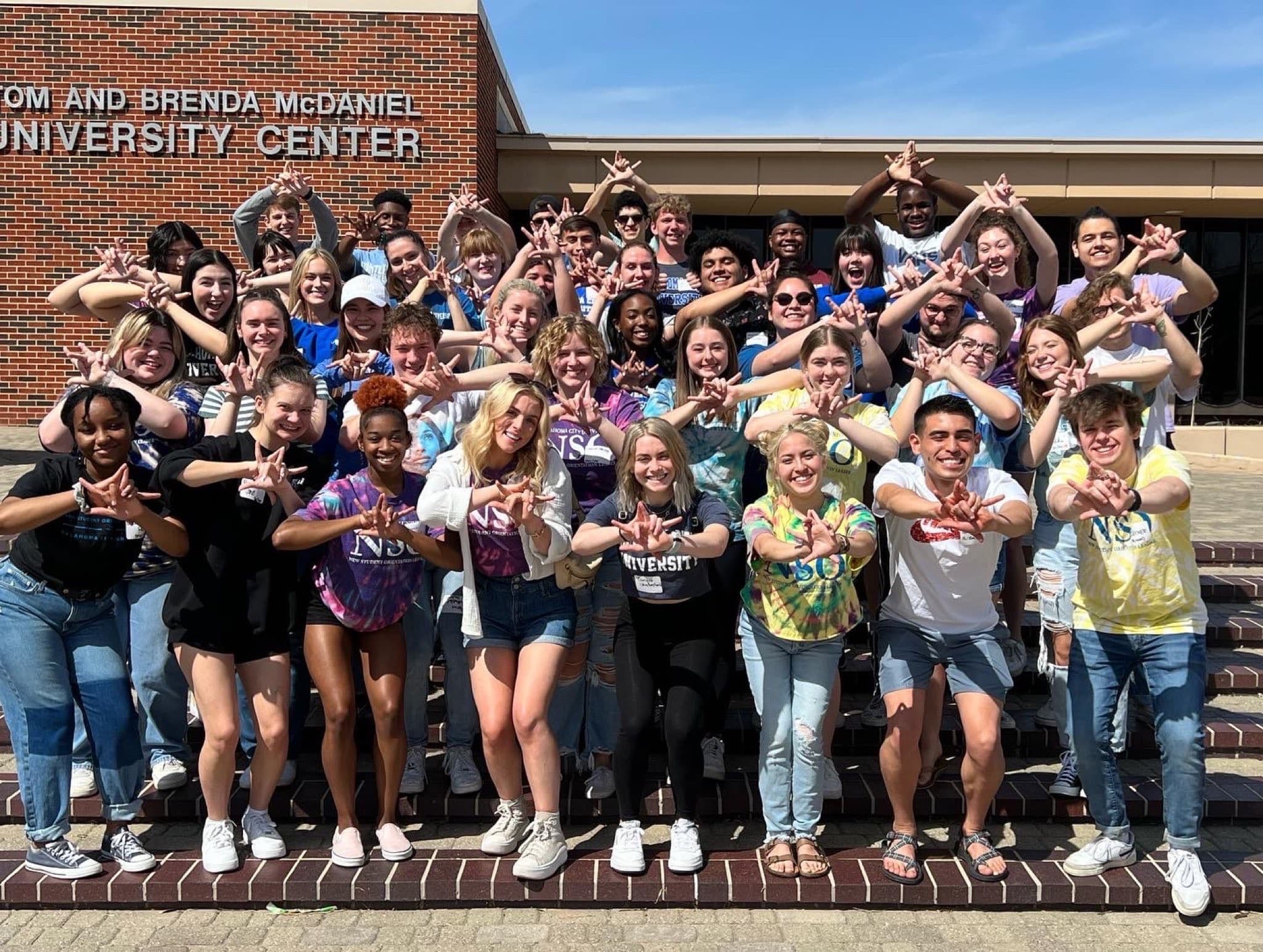 Orientation leaders are OCU student leaders who are committed and motivated to connecting new students to the campus community. They help new students find their home on campus through leading NSO Groups at Stars101s and Leaders during Stars Week. They also volunteer at many of the new student events!

Timeline & Time Commitment
Orientation leader applications are closed. They will reopen in the fall.

Position and Eligibility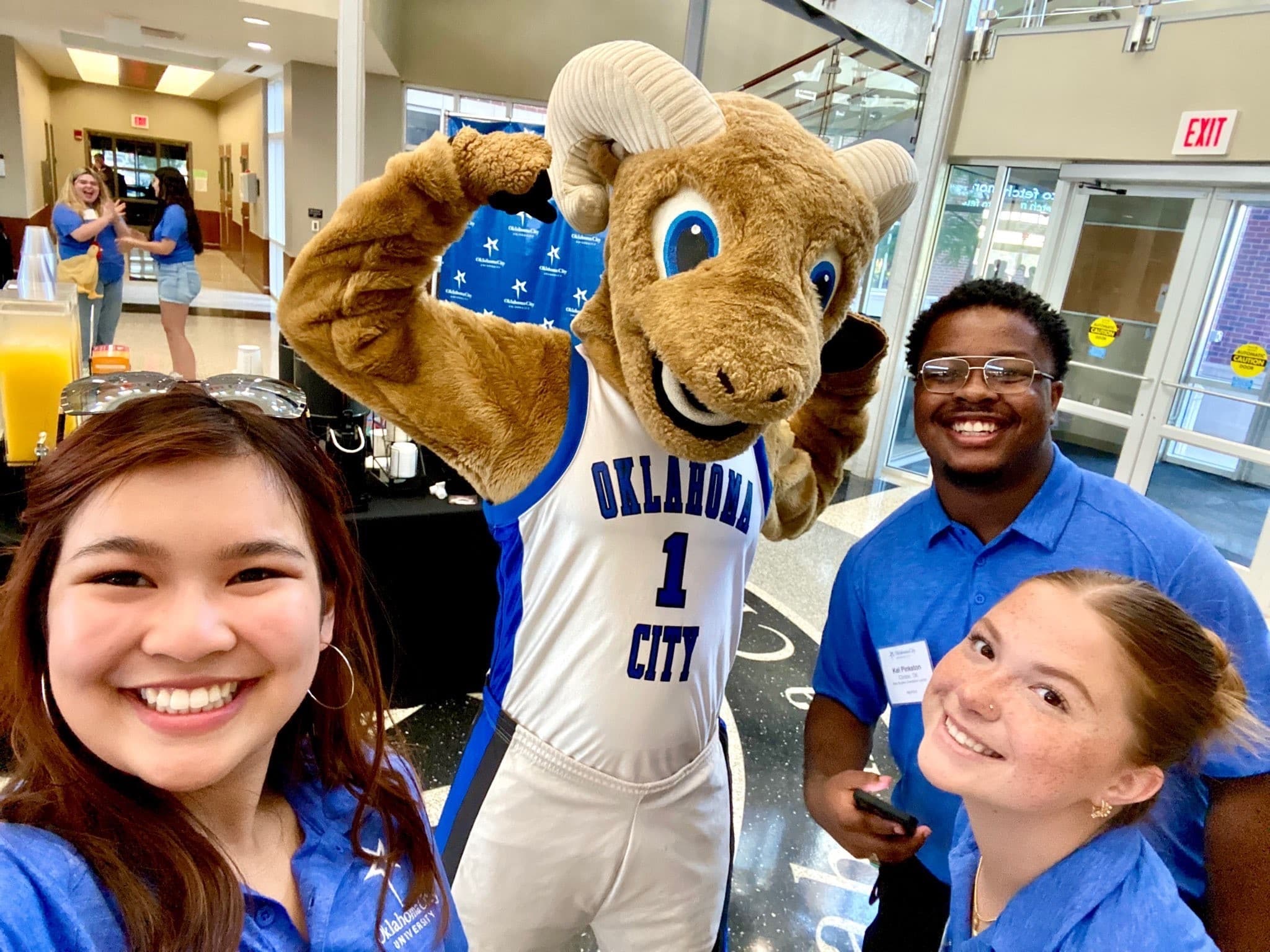 NSO Leader
NSO Leaders are explained above. This is a volunteer position to help new students and join-in on all of the fun Stars Week & Stars101 activities!
Any undergraduate student in good standing with the university, who isn't graduating in May of the current academic year, is welcomed and encouraged to apply!
NSO Exec Team
NSO exec team members are volunteer positions for students to help organize and facilitate major components of FYE activities. All NSO Exec Team members must have served as an NSO Leader in a previous year, must be in good standing with the university, and cannot graduate in May of the current academic year.
Positions are listed below:
Executive Director
In collaboration with the Advisor(s), the NSO Executive Director is responsible for:
Serving as the main liaison between the Advisor and the NSO Executive Committee and the NSO team.
Organizing and attending all NSO Executive Committee Meetings Planning and managing all NSO Leader trainings and programming
Organizing and managing NSO Groups
Leading daily NSO Leader Check-In Meetings during Stars Week
Planning and hosting the Traditions Rally
Other duties as assigned by the Advisor(s)
*The Executive Director position is a paid StuPro position within the Office of Student Engagement, and will require (paid) office hours throughout the Spring Semester.
Director of Stars 101
In collaboration with the Advisor(s) and the Executive Director, the Director of Stars 101 is responsible for:
Developing Stars 101 training for all NSO Leaders
Assigning NSO Leader and group pairings (and adjusting as needed)
Setting up Stars 101 Student Sessions
Serving as the point-of-contact for the NSO Help Desk at all Stars 101 events
Managing and keeping track of all Stars 101 supplies
Attending regularly scheduled NSO Executive Committee Meetings
Attending all NSO Leader training and programming
Other duties as assigned by the Advisor(s)
Director of Logistics
In collaboration with the Advisor(s) and the Executive Director, the Director of Logistics is responsible for:
Coordinating and managing all NSO and Stars Week room reservations, supplies technical needs, A/V equipment, and catering orders
Attending regularly scheduled NSO Executive Committee Meetings
Attending all NSO Leader training and programming
Other duties as assigned by the Advisor(s)
Director of Diversity, Equity, & Inclusion
In collaboration with the Advisor(s) and the Executive Director, the Director of Diversity, Equity, & Inclusion is responsible for:
Coordinating the Diversity, Equity, & Inclusion Workshop
Planning and coordinating Critical Conversations programming
Planning and hosting Affinity Spaces
Attending regularly scheduled NSO Executive Committee Meetings
Attending all NSO Leader training and programming
Other duties as assigned by the Advisor(s)
Director of Daytime Programming
In collaboration with the Advisor(s) and the Executive Director, the Director of Programming is responsible for:
Planning Rise & Shine Wellness Activities
Coordinating and managing Find Your Classes Tours
Attending regularly scheduled NSO Executive Committee Meetings
Attending all NSO Leader training and programming
Other duties as assigned by the Advisor(s)
Director of Evening Programming
In collaboration with the Advisor(s) and the Executive Director, the Director of Programming is responsible for:
Organizing and planning OKConnect programming
Planning Capture the Flag Organizing and hosting
Open Mic Night/Show n' Tell
Attending regularly scheduled NSO Executive Committee Meetings
Attending all NSO Leader training and programming
Other duties as assigned by the Advisor(s)
Director of Morale
In collaboration with the Advisor(s) and the Executive Director, the Director of Morale is responsible for:
Planning First-Year Follies
Leading energizer activities during daily NSO Leader Check-In Meetings
Organizing Out of the Blue activities
Attending regularly scheduled NSO Executive Committee Meetings
Attending all NSO Leader training and programming
Other duties as assigned by the Advisor(s)
Director of Communications
In collaboration with the Advisor(s) and the Executive Director, the Director of Communications is responsible for:
Developing and implementing comprehensive Stars 101 and Stars Week social media plans
Taking pictures and videos at all Stars 101 and Stars Week events
Promoting social media pages at all Stars101 event
Creating graphics for all Stars 101 and Stars Week promotion and events
Preparing daily Stars Week student emails
Taking commemorative pictures of all NSO Groups
Attending regularly scheduled NSO Executive Committee Meetings
Attending all NSO Leader training and programming
Other duties as assigned by the Advisor(s)
Director of Transfer Programming
In collaboration with the Advisor(s) and the Executive Director, the Director of Transfer Programming is responsible for:
Coordinating and managing Transfer Student Welcome/Orientation during Stars Week
Reaching out and confirming presenters and speakers for Transfer Student Orientation/Welcome
Coordinate with Director of Logistics to reserve space on campus
Attending regularly scheduled NSO Executive Committee Meetings
Attending all NSO Leader training and programming
Other duties as assigned by the Advisor(s)