BA Theatre Innovation & Entrepreneurship
Introducing the BA in Theatre Innovation and Entrepreneurship
The BA in Theatre Innovation and Entrepreneurship program provides a flexible, individualized program of study to train the next generation of theatre artists and leaders including directors, arts administrators, dramaturgs, teaching artists, and more!
We are looking for students who live an artistic life of "and" to come and join this unique program. BATIE students are: performers "and" writers, directors "and" teachers, designers "and" dramaturgs, artistic leaders "and" scientists, and so much more! If you are passionate about theatre and know that you want to study more than one thing, forging your own path, then this is the program for you! We are looking for excellent students who are ready to embark on an individualized program of theatrical study tailored to their own unique interests and goals and who want to build a broad foundation to support multi-faceted careers in and outside of the theatre. If that's you, then we want to meet you!

The BATIE Program
Students in this program will pair the BA core curriculum, which includes a wide variety of classes from many areas of the theatre, with a selection of classes that meet each student's educational and career goals. Students can choose to complete multiple minors in and outside of the school of theatre, a double major in another area, or select a variety of courses from across campus. Each student's degree will be different, and each student will work with faculty and their advisor to design a unique program that is tailored to them! The possibilities are endless, but here are some pathways and tracks that a BATIE student might explore: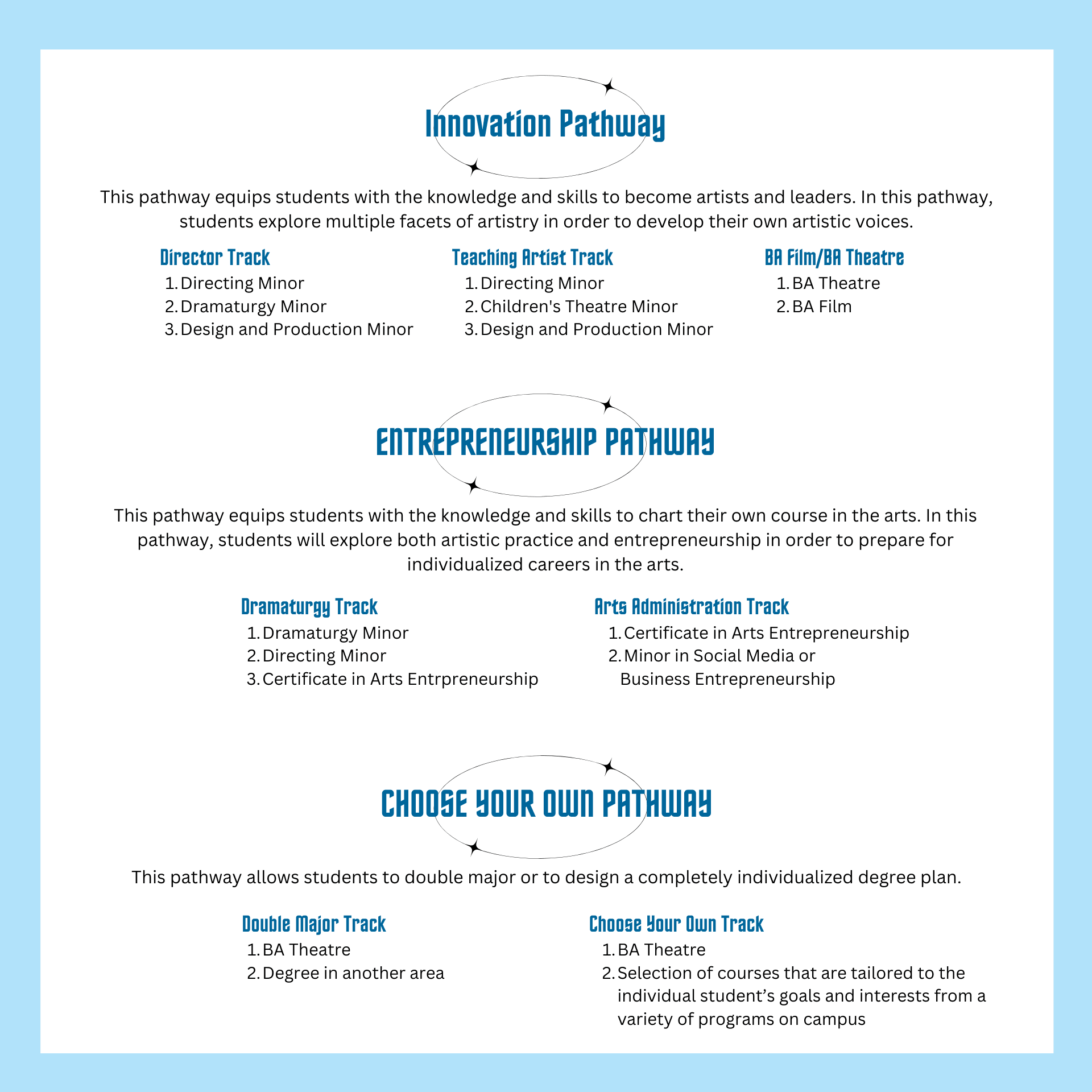 STUDY ABROAD
As a part of their program of study, BATIE students are encouraged to study abroad in their third year. The program is designed to accommodate a semester abroad. For more information about study abroad opportunities at OCU, click here to visit the Study Abroad Office website.
Scholarships
OCU offers generous scholarships for incoming students based on their high school GPA. Please click here to take a look. In addition, the BA program offers talent-based scholarships that are awarded based on the submission of a portfolio and an interview. Academic scholarships combined with talent scholarships make OCU an affordable option for most students!
Apply
BA Theatre Innovation and Entrepreneurship Application Information for Fall 2024 Admission
Step 1: Submit an Application to the University indicating your interest in the BA Theatre Innovation and Entrepreneurship program
Step 2: Fill out the BATIE application on Acceptd including submitting a portfolio of materials that you think show us who you are as an artist. Your portfolio can contain whatever you would like but should include the following:
A current resume of your theatrical/artistic work that includes your name and pronouns (if you would like to share them), your email, phone number, and current GPA.
A letter of recommendation from a teacher that shares why you would be a good fit for the BA in Theatre Innovation and Entrepreneurship Program. The letter might speak to your strengths as an artist, how you exemplify the idea of "and" that is central to the program, your readiness for a challenging, individualized program of study, and anything else that will help us determine if you are a good fit for the program.
A selection of materials that shows off what you do! This can and should include things you've written, designed, performed, etc. and those things can be from your work in theatre or other places in and outside of school. You can share your work in the form of photos, videos, or documents, and should highlight all the things you do as an artist. The goal is to show us what you do by sharing examples, so the more the better! This portfolio should be fully digital and submitted according to the instructions on Acceptd.
A writing sample. For this component, you have two choices:

Submit something you've written. This can be a play or other creative writing or it can be analytical writing (a paper or essay) from an English, History, or other class.
Respond to the following prompt in about 500 words (two pages double-spaced) of your best writing:
Why do the arts matter? Using your own experience and, if you would like, research, explain why you believe the arts are important and worthy of study.
Step 3: We will review your portfolio and if we think that we will be a fit for you and you will be a fit for us we will reach out to you via the email provided on your resume to schedule an interview. We can do interviews over Zoom, in person on campus, or at an event that we are attending.

If you have any questions please reach out to the head of the BATIE Program, Dr. Amy Osatinski, at [email protected].