2023-2024 Season Information
Mainstage Productions
TheatreOCU Mainstage provides opportunities for students to collaborate with professional theatre artists from a variety of disciplines to produce entertaining, engaging, provocative, and inclusive theatre for both the campus and larger Oklahoma City community. Students apply skills developed in the classroom and studios in the Mainstage's diverse offering of fully produced works ranging from a wide range of styles and genres.

DRACULA: A FEMINIST REVENGE FANTASY, REALLY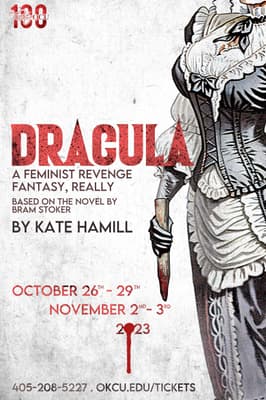 In this thrilling new adaptation that bounces between humor and horror, playwright Kate Hamill reimagines Bram Stoker's vampire classic as a full-throated battle cry against toxic masculinity. No damsels in distress, no romanticized villains—just a gleeful stake through the heart of the patriarchy.
By Kate Hamill, based on the novel by Bram Stoker
Oct. 26-29, 2023 & Nov. 2-4, 2023
PARADISE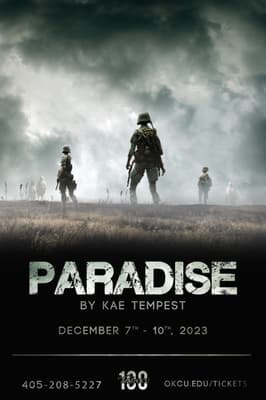 UK Playwright and hip-hop artist Kae Tempest forges an epic new take on the Greek legend of Philoctetes, a once a celebrated wartime hero turned wounded outcast. When a young soldier and an old enemy appears, Philoctetes' hope of escape turns first to suspicion and then to thoughts of revenge.

By Kae Tempest

Dec. 7-10, 2023
PUFFS, OR SEVEN INCREASINGLY EVENTFUL YEARS AT A CERTAIN SCHOOL FOR MAGIC AND MAGIC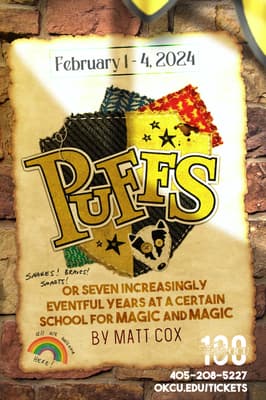 For seven years a certain boy wizard went to a certain Wizard School and conquered evil. This, however, is not his story. This is the story of the Puffs... who just happened to be there too. A tale for anyone who has never been destined to save the world.

By Matt Cox

Feb. 1-4, 2024
Puffs is not authorized, sanctioned, licensed or endorsed by J.K Rowling, Warner Bros. or any person or company associated with the Harry Potter books, films or play.
SHE STOOPS TO CONQUER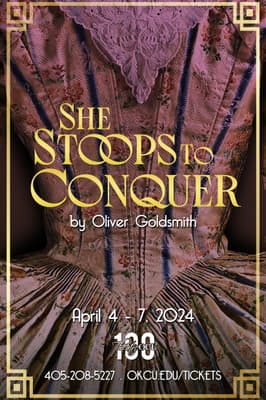 In this classic comedy of manners, two young men with their sights set on wooing the alluring and upper-crust Kate and Constance, are tricked into believing the home of their respective conquests is an inn. Both behave badly and no one is truly who they seem in this bawdy romping frolic that has kept audiences laughing for over two centuries.
By Oliver Goldsmith
April 4-7, 2024
Studio Series
TheatreOCU Studio Series encourages creativity and exploration in a practical learning environment. Prioritizing process over production values, the Studio Series utilizes minimal design and technical elements while providing student and faculty artists the opportunity to hone their skills as storytellers.

ROMEO & JULIET ABRIDGED
Arguably one Shakespeare's best-known romantic tragedy, the play tells the story of a young couple from rival families in medieval Verona, Italy, and the inevitable ecstasy and doom of their whirlwind romance. This 90-minute adaption of this classic tales has been crafted by OCU head of Performance, D. Lance Marsh for students traveling to the 2023 World Theatre Education Alliance in Bejing, China.

By William Shakespeare, adapted by D. Lance Marsh
Sept. 21-24, 2023
BELLWETHER
Bellwether was a nice, safe place to live. Bad things didn't happen there. That was until six-year-old Amy Draft went missing. As the investigation progresses, speculation in the media and the neighborhood turns on Amy's parents, Alan and Jackie Draft. But the young girl's disappearance is not what it seems, and is only a glimpse of what lurks below the community's perfection.

By Steve Yockey
Nov. 9-12, 2023

THANKSGIVING PLAY
Good intentions collide with absurd assumptions in Larissa FastHorse's wickedly funny satire, as a troupe of terminally "woke" teaching artists scrambles to create a pageant that somehow manages to celebrate both Turkey Day and Native American Heritage Month.

By Larissa FastHorse
Nov. 16-19, 2023
THE YELLOW BOAT
A glorious affirmation of the strength and courage of children. Based on the true story of David and Sonja Saar's son, Benjamin, who was born with congenital hemophilia. A uniquely gifted visual artist, Benjamin's buoyant imagination transformed his physical and emotional pain into a blaze of colors and shapes in his fanciful drawings and paintings.
By David Saar
Nov. 30 - Dec. 3, 2023
THE LIFE OF GALILEO
The flawed hero, Galileo, makes astronomical observations that overturn the common understanding of the workings of the universe. Inevitably provoking the scrutiny of the powerful Church and the frightening Inquisition, this knowledge will either be preserved or suppressed by the actions of Galileo and his associates. The battle between science and belief and the question of what makes a person heroic intersect in this classic drama by Bertolt Brecht.
By Bertolt Brecht, translated by David Hare
Feb. 22-25, 2024
BE AGGRESSIVE
Vista Del Sol is paradise of sandy beaches and avocado-lined streets. But for cheerleader Laura, everything changes when a tragic accident thrust the seventeen-year-old into the role of caregiver for her precocious younger sister, Hannah, and her brittle father, Phil. A ferocious fellow cheerleader delivers a chance for escape and, perhaps, renewal in the form of the Spirit Institute of the South.
By Annie Weisman
Feb. 29 - March 3, 2024
DUSTY AND THE BIG BAD WORLD
Based on an actual incident that happened in 2005, Dusty and the Big Bad World is a very funny, no-holds-barred yet even-handed look at PBS, government bias, gay marriage, the right to privacy, children's allergies and the ability to survive in a small-minded world.
By Cusi Cram
March 7-10, 2024
GROSS INDECENCY: THE THREE TRIALS OF OSCAR WILDE
At the height of his career, the Crown prosecuted Oscar Wilde for "gross indecency with male persons." Despite two hit shows on the West End, the courtroom denounced Wilde's art as immoral – forcing him to defend his works and life with characteristic wit and insight. Gross Indecency explores this true story with a text crafted from a wealth of eyewitness accounts.
By Moises Kaufman
April 11-14, 2024
Out of the Box
Out of the Box is our student-led and operated theatre company aimed at exposing students to the realities of producing. Out of the Box features student selected titles produced exclusively with student directors and performers. Out of the Box also produces the OCU Improv Troupe which holds frequent late-night comedy shows throughout the year.