1. Find the truth.
2. Tell the truth.
3. Repeat.
Philosophy literally means "the love of wisdom." It's about finding the truth and telling the truth. It asks the big questions about oneself and one's world: Who am I? What can I know? What is the good life? Philosophy is not only about seeking the answers to questions like these; it is also about communicating the truth in a society that is often unmoored from the truth. This is why the study of philosophy, which seeks the truth, and rhetoric, which communicates the truth, go hand in hand.
Why Study Philosophy at OCU?
Preparation for Graduate or Professional School

Philosophy majors score exceptionally well on the Law School Admissions Test, the Graduate Record Exam, and the Graduate Management Aptitude Test. In recent years, philosophy majors scored higher on the LSAT than all other majors except math and economics. On the GMAT, philosophy majors scored higher than all others except physics majors. On the GRE verbal section, philosophy majors scored higher than all other majors. On the math section, they scored at least 10% higher than all other humanities majors. A recent article about the success of philosophy majors concluded with the question: "Why not study something practical, like philosophy?"


Develop Valuable Leadership Skills
The study of philosophy develops many "transferable skills" that are relevant to any path that you pursue:
Leadership: vision, problem-solving & decision-making
Values: greater autonomy, empathy, & moral responsibility
Communication: reading, speaking, & writing
Creative thinking: analogy, synthesis, & imagination
Critical thinking: analysis, evaluation, & persuasion
The Department encourages students to pursue a second major in another field. We believe that philosophy is good preparation for long-term success in anything that you want to do. Keep in mind that what fits the job description of entry-level positions is rarely what is required for a successful long-term career, given how rapidly the needs of employers and personal circumstances change. Today the average worker will have nearly a dozen different jobs over the span of his or her lifetime. Philosophical training develops valuable transferable skills that will enable you to adapt to changing careers and demands throughout your lifetime.
Live Well
An undergraduate education should prepare you not only for your future career but also for your future life. Philosophy is education for a lifetime. It helps you to see the world more broadly and to think about the meaning of life more deeply.
Program Objectives
The philosophy department has the following seven instructional objectives which it aims to accomplish through all of its programs.
As a philosophy graduate, you'll be able to:
Communicate clearly, concisely, and forcefully in written English.
Communicate clearly, concisely, and forcefully in oral English.
Read, comprehend and analyze philosophical texts written in or translated into English.
Acquire a body of content knowledge in philosophy, providing a sufficient foundation for further graduate study in the discipline.
Synthesize ideas drawn from diverse sources.
Think creatively and develop original ideas.
Think critically and evaluate the ideas of others in a fair and balanced way.
Student Testimonials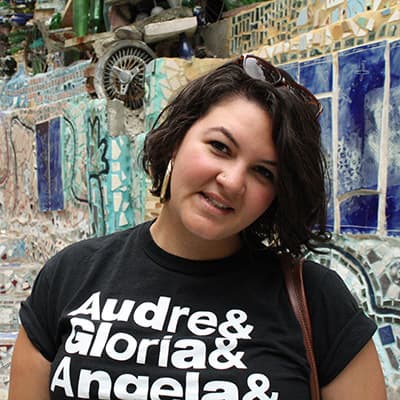 "The Philosophy Department at Oklahoma City University gave me the training I needed to be successful in a doctoral program in philosophy. Not only did I gain a solid foundation in the canonical historical texts and figures, but I was also exposed to cutting-edge contemporary work.

Because of the small class sizes, we were able to have meaningful discussions of the materials. This experience gave me the confidence to participate in graduate seminars that many of my colleagues from larger universities lacked. Individual attention from top-notch professors allowed me to hone my skills as a thinker and a writer and played a huge role in shaping how I think about my work today."
- Emma Velez, '13, B.A. Philosophy
Famous Philosophy Majors
If your parents are giving you a hard time about being a philosophy major or minor, here is a helpful list of persons who have survived life after philosophy:
Steve Allen (writer & comedian)
Jay Leno (comedian)
Woody Allen (director & comedian)
Max Baer Jr. (actor: Jethro on The Beverly Hillbillies)
Bill Clinton (former U.S. President)
Philip K. Dick (science fiction writer)
David Duchovny (actor on X-FILES)
John Elway (quarterback, Denver Broncos)
Harrison Ford (actor)
Vaclav Havel (former President of the Czeck Republic)
Mark Hulbert (financial columnist for FORBES magazine)
Carl Icahn (business person & corporate raider, bought TWA)
Martin Luther King, Jr. (civil rights leader)
Bruce Lee (martial arts expert & actor)
Peter Lynch (director)
Paul Martin (Canadian Prime Minister)
Steve Martin (comedian & actor)
Kate Millett (author of SEXUAL POLITICS)
Bob Moses (civil rights activist)
Robert Motherwell (painter)
Iris Murdoch (novelist)
Lachlan Murdoch (son of Rupert Murdoch, media magnate)
Robert Musil (Austrian novelist)
Neil Peart (drummer for rock group, RUSH)
Pope John Paul II (1920-2005) (vicar of Christ)
Brad Roberts (singer-songwriter for CRASH TEST DUMMIES)
Patricia Rozema (film-maker, I'VE HEARD THE MERMAIDS SINGING)
Susan Sontag (essayist)
George Soros (money manager, Soros Foundation)
Alex Trebek (JEOPARDY)