Art exhibit breaks a habit
Posted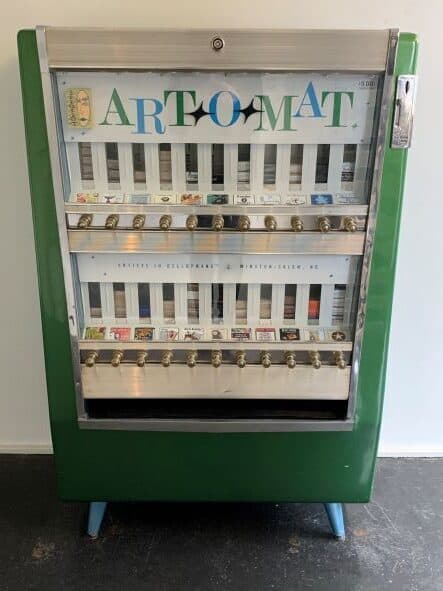 Oklahoma City University's next art exhibit, opening Jan. 9, will give a former cigarette machine a breath of fresh air.
An Art-o-Mat, the brainchild of tobacco town-based artist Clark Whittington, will be the focal point of the exhibit in OCU's Nona Jean Hulsey Gallery through March 3. Whittington will give an artist talk in the gallery at 4:30 p.m. Feb. 23.
Whittington came up with the idea of transforming an old coin-op cigarette machine into a photography distribution device, installing his creation inside his Winston-Salem, North Carolina, café in 1997. Since then, more than 100 machines have been converted to Art-o-Mats as part of the Artists in Cellophane collective that has taken hold across the U.S.
"Art-o-Mat breaks down the price barriers to being a patron," said Heather Lunsford, Hulsey Gallery director. "Collectors can get real art for only $5 and start a collection of their own."
The exhibit at OCU will include approximately 300 works from the Art-o-Mat/Artists in Cellophane repertoire on the gallery walls surrounding the machine, which is on loan from the Christian Keesee collection. Visitors may also select art from the machine via a $5 token available for purchase.
There will also be workstations where patrons can make their own creations, then package them into the specs the machines require for smooth operation. In order for Art-o-Mats to function properly, individual pieces of art must be boxed, or take the form of, a similar size and shape as a pack of cigarettes. Artforms can include almost any type of media – from drawings to paintings or photographs to sculptures.
The Nona Jean Hulsey Gallery, 1608 NW 26 , is open 9 a.m. to 5 p.m. on weekdays after Jan. 9. Admission is free to the public.
Read more about the history of Art-o-Mat and its Artists in Cellophane submission guidelines at artomat.org.