Bloomberg Terminal Lab Completes First Year
Posted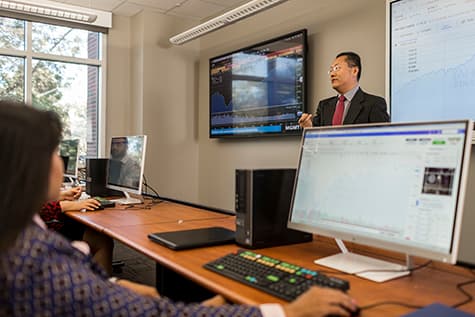 In its initial year of use, the Bloomberg Terminal computer lab at OKCU has proven itself to be an important tool for teaching finance and economics.
The software system, considered the most advanced information and analysis tool in the field of finance, has been utilized in a unique way at the Meinders School of Business.
"Our dedicated lab, paired with the latest educational tools, has changed the way I teach my courses," said finance professor James Ma, demonstrating a combination of ways utilizing the Bloomberg Terminal and the two chalkboard-sized screens in front of the lab. "It has also improved the effectiveness and efficiency in the way students learn finance and economics."
The Bloomberg subscription-based service features the most up-to-date stock market information from across the world. Users can track stock prices of publicly traded companies, values of international currencies, news stories about industries and can gather financial data on almost anything available for public disclosure.
"Any publically available financial information you can think of can be found using a Bloomberg," Ma said, noting the system can even be used to search for finance jobs, social media posts, classified ads or follow player trades amongst professional sports teams.
Furthermore, Bloomberg Terminals can be linked to Excel spreadsheet software, allowing users to quickly gather and analyze data on multiple companies.
Ma is a former Wall Street equity trader who specializes in investments. He holds a Ph.D. in finance and two political science degrees.
He credits the latest iteration of the Bloomberg Terminal with revolutionizing financial information service. He says familiarity with Bloomberg Terminals is almost a necessity for anyone seeking advanced employment opportunities in the finance industry.
Ma explained how the school's dream computer lab became a reality at Oklahoma City University. Dean Steven Agee secured gifts from the Chickasaw Nation and Sue Ann Arnall provided the financial resources to create the Financial Resource Center, which includes 12 licensed Bloomberg Terminals and two oversized monitors.
The monitors allow students and the professor to project the contents of their screens for the rest of the class to see and discuss. The professor can operate one of the monitors, a touch-sensitive screen called a SMART Board, either from the monitor itself or from a computer lectern nearby.
Ma explained that Bloomberg is constantly adding new functionality to its system. Michael Bloomberg introduced the prototype of his terminal in the early 1980s, and over the years Ma said the system has become the most powerful tool in the industry.
"Bloomberg has thousands of reporters all around the world who are constantly providing news updates and posting financial data. These terminals can pull that information and quickly present it in a very useful way. It's practically a necessity in the world of modern finance," he said.
Agee called the lab a differentiator against other business schools in the state. "This Bloomberg resource center will be transformational for business students here," Agee said. "Every student has the opportunity to learn about the terminal and to become Bloomberg certified."