Dance school stages 'Holiday Spectacular' show
Posted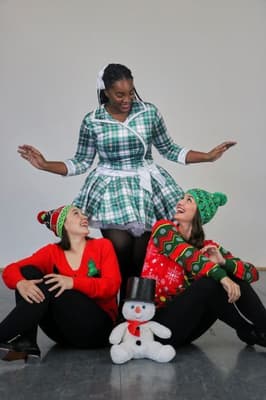 Oklahoma City University will premiere "Holiday Spectacular," the inaugural performance of the Star Dance Company of the Ann Lacy School of American Dance & Entertainment, Dec. 8-11. "Holiday Spectacular" will be performed at 8 p.m. on Dec. 8, 9 and 10, with matinee showings at 2 p.m. on Dec. 10 and 11.
All performances will take place on the Oklahoma City University campus, in the Kirkpatrick Fine Arts Building at NW 24 and Blackwelder Avenue. For tickets, go to okcu.edu/tickets or call 405-208-5227.
Introducing vibrant new dances, the Star Dance Company's "Holiday Spectacular" honors the legacy of the Ann Lacy School of American Dance & Entertainment while embracing dance for the world of entertainment. More than 120 dynamic performers will spread yuletide magic with high-energy holiday favorites, vivid costumes and a graceful reminder of the reason for the Christmas season.
With a glamorous Starettes kickline, a journey to Santa's workshop, a luminous ballet performance by mischievous winter sprites and a touching depiction of the Christmas story, theater-goers will leave filled with joyful anticipation for the holidays to come.
The Ann Lacy School of American Dance & Entertainment and the American Spirit Dance Company were founded by recently retired OCU Dance Chair Jo Rowan and Dean John Bedford. The name American Spirit Dance Company is being retired in honor of Rowan, but the Star Dance Company will continue OCU's tradition of exciting dance productions.
OCU was the first dance program in America to offer degrees specializing in entertainment dance forms of tap, jazz and musical theatre dance. Dancers from across the country come to Oklahoma City University every year to hone their craft and go on to successful careers in show business. Alumni can be found performing, managing, choreographing and teaching all over the world. They have performed in Broadway shows, the Rockettes, television, film, cruise ships and concerts with musical artists.