Film Series Continues with Halloween Special
Posted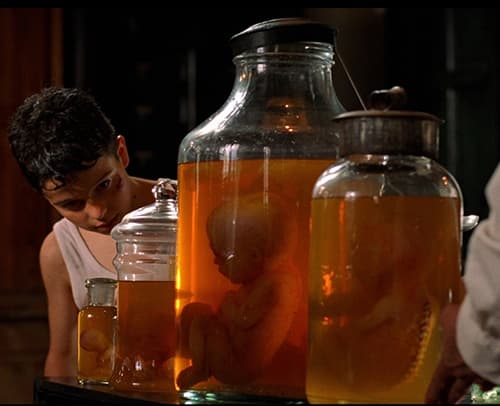 Oklahoma City University's Film Institute will continue its 37th annual international film series at 2 p.m. Oct. 21 with a screening for the Halloween season, Guillermo del Toro's "El espinazo del diablo" ("The Devil's Backbone").
The screening is free to the public in the Kerr McGee Auditorium of the Meinders School of Business at N.W. 27th Street and McKinley Avenue.
"El espinazo del diablo" is an earlier feature-length film by the Oscar-winning director of "The Shape of Water" and "Pan's Labyrinth." Unaware that his father has been killed in the Spanish Civil War, main character Carlos is dropped at an isolated orphanage to wait out the last days of 1930s conflict. Facing bullying and austere conditions, he soon finds himself pulled into a mystery that unravels the place's secrets of greed and shame through a classic ghost-story format.
Imbued with nostalgia, fairy tale elements and the pull of collective memory, some critics consider this the director's most personal film. It will be screened in Spanish with English subtitles.
"The Power of Place" serves as the theme of this year's series. More than just setting, place can be nostalgic or haunting.
"It may be mythic or menacing," said Tracy Floreani, director of OCU's Film Institute. "It can be as specific as a room in a house or amorphous as an entire watery landscape. Place informs our personal identities, familial and national identities. People connect to place, or feel displaced; fight for a place, or flee it."
A discussion about the film will follow the screening for those who wish to stay. For more information about the series, visit the Film Institute website at okcu.edu/film-lit.
Other dates and films in the series will include:
7:30 p.m. Nov. 7, Martin Zandvliet's "Under Sandet" ("Land of Mine") (Denmark)
2 p.m. Nov. 18, Taika Waititi's "Hunt for the Wilderpeople" (New Zealand)
Time TBD Dec. 1, Sterlin Harjo's "This May Be The Last Time" in conjunction with the Bass School of Music (Oklahoma USA)
2 p.m. Jan. 20, Hirokazu Kore-eda's "Maborosi" (Japan)
7:30 p.m. Feb. 6, Vincent Paronnaud and Marjane Satrapi's "Persepolis" (Iran/France)
2 p.m. Feb. 17, Ritwik Ghatak's "A River Called Titas" (Bangladesh)
7:30 p.m. March 6, Agnès Varda's "Faces Places" (France)
2 p.m. March 17, James Sheridan's "In America" (Ireland)
2 p.m. March 31, Michael Radford and Massimo Troisi's "Il Postino" ("The Postman") (Italy), in conjunction with the annual Thatcher Hoffman Smith Poet Series "Picturing Poetry"