Film Series Continues with Syrian Crisis Documentary
Posted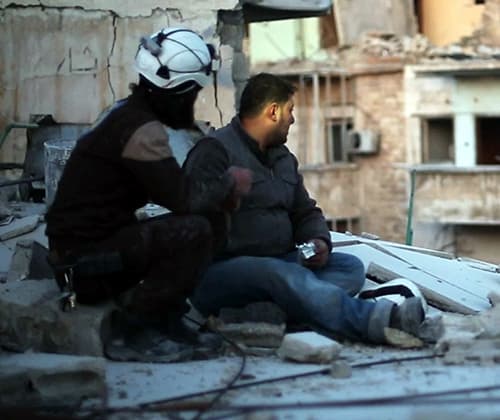 Oklahoma City University's Film Institute will continue its 37th annual international film series at 7:30 p.m. Oct. 3 with Feras Fayyad's "Last Men in Aleppo."
The screening is free to the public in the Kerr McGee Auditorium of the Meinders School of Business at N.W. 27th Street and McKinley Avenue.
One of the most widely lauded documentaries of last year and winner of the World Documentary Grand Jury Prize at 2017's Sundance Film Festival, "Last Men in Aleppo" depicts the rescue work of the White Helmets, a citizen organization of first responders. In Syria, during a long civil war, they are the first people to rush headlong into barely-finished airstrikes to excavate their neighbors from the urban rubble. Following two members of the White Helmets, the audience witnesses their struggle to serve the community and maintain their connection to a hometown turned dangerous. The film will be screened in Arabic with English subtitles.
"The Power of Place" serves as the theme of this year's series. More than just setting, place can be nostalgic or haunting.
"It may be mythic or menacing," said Tracy Floreani, director of OCU's Film Institute. "It can be as specific as a room in a house or amorphous as an entire watery landscape. Place informs our personal identities, familial and national identities. People connect to place, or feel displaced; fight for a place, or flee it."
A discussion about the film will follow the screening for those who wish to stay. For more information about the series, visit the Film Institute website at okcufilmlit.org.
Other dates and films in the series will include:
2 p.m. Oct. 21 (Halloween special), Guillermo del Toro's "El espinazo del diablo" ("The Devil's Backbone") (Spain)
7:30 p.m. Nov. 7, Martin Zandvliet's "Under Sandet" ("Land of Mine") (Denmark)
2 p.m. Nov. 18, Taika Waititi's "Hunt for the Wilderpeople" (New Zealand)
Time TBD Dec. 1, Sterlin Harjo's "This May Be The Last Time" in conjunction with the Bass School of Music (Oklahoma USA)
2 p.m. Jan. 20, Hirokazu Kore-eda's "Maborosi" (Japan)
7:30 p.m. Feb. 6, Vincent Paronnaudand Marjane Satrapi's "Persepolis" (Iran/France)
2 p.m. Feb. 17, Ritwik Ghatak's "A River Called Titas" (Bangladesh)
7:30 p.m. March 6, Agnès Varda's "Faces Places" (France)
2 p.m. March 17, James Sheridan's "In America" (Ireland) 2 p.m. March 31, Michael Radford and Massimo Troisi's "Il Postino" ("The Postman") (Italy), in conjunction with the annual Thatcher Hoffman Smith Poet Series "Picturing Poetry"