Film Series Presents 'Land of Mine'
Posted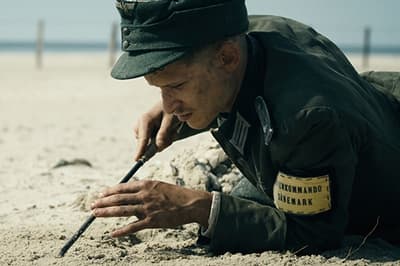 Oklahoma City University's Film Institute will continue its 37th annual international film series at 7:30 p.m. Nov. 7 with Martin Zandvliet's "Under Sandet" ("Land of Mine").
The screening is free to the public in the Kerr McGee Auditorium of the Meinders School of Business at N.W. 27th Street and McKinley Avenue.
Based on real events in Denmark in the immediate aftermath of World War II, "Land of Mine" tells the story of teenage German POWs who are forced to clear land mines from a Danish beach. As the Danish sergeant who oversees the young men realizes the consequences of the dangerous work on the people he has spent the whole war dehumanizing, he finds himself confronted with a choice upon which rests the soul of the film: can he let these men die in an attempt to retrieve honor for his country?
Widely celebrated in Denmark, "Land of Mine" is a sobering act of witness and a reminder of the ineradicable humanity that can be found even in the direst circumstances.
The film contains scenes of combat-related violence. It will be screened in Danish and German with English subtitles.
"The Power of Place" serves as the theme of this year's series. More than just setting, place can be nostalgic or haunting.
"It may be mythic or menacing," said Tracy Floreani, director of OCU's Film Institute. "It can be as specific as a room in a house or amorphous as an entire watery landscape. Place informs our personal identities, familial and national identities. People connect to place, or feel displaced; fight for a place, or flee it."
A discussion about the film will follow the screening for those who wish to stay. For more information about the series, visit the Film Institute website at okcu.edu/film-lit.
Other dates and films in the series will include:
2 p.m. Nov. 18, Taika Waititi's "Hunt for the Wilderpeople" (New Zealand)
Time TBD Dec. 1, Sterlin Harjo's "This May Be The Last Time" in conjunction with the Bass School of Music (Oklahoma USA)
2 p.m. Jan. 20, Hirokazu Kore-eda's "Maborosi" (Japan)
7:30 p.m. Feb. 6, Vincent Paronnaud and Marjane Satrapi's "Persepolis" (Iran/France)
2 p.m. Feb. 17, Ritwik Ghatak's "A River Called Titas" (Bangladesh)
7:30 p.m. March 6, Agnès Varda's "Faces Places" (France)
2 p.m. March 17, James Sheridan's "In America" (Ireland)
2 p.m. March 31, Michael Radford and Massimo Troisi's "Il Postino" ("The Postman") (Italy), in conjunction with the annual Thatcher Hoffman Smith Poet Series "Picturing Poetry"