Gallery hosts balloon sculpture installation
Posted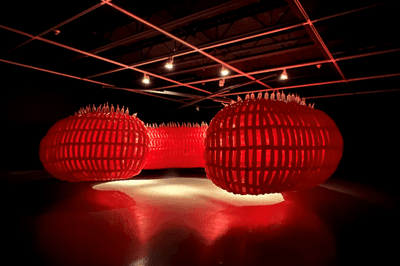 Oklahoma City University will host a large-scale exhibit by renowned artist Jason Hackenwerth, with a public opening reception from 5 to 7 p.m. Oct. 6. "Realm" will be on display in the Hulsey Art Gallery, 1608 NW 26, from Oct. 6-Nov. 28. OCU students will help the artist build the installation as part of a special course offering tied to the exhibit.
"Realm" will become one of Hackenwerth's trademark creations where hundreds of biodegradable latex balloons are inflated, organized by color and tied together into a massive geometric shape. Viewers will be able to move around and into the center of the "Realm" sculpture.
Hackenwerth is a multidisciplinary artist working in sculpture, installation and painting. Taking cues from the natural world, his work endeavors to bring viewers on a journey through the challenges and occasional bitterness of life while keeping sight of the potential for love, joy and forgiveness.
"'Realm' was created as exploration of place, with infinite possibilities and manifestations, curving inward and continuously rotating upon itself," Hackenwerth noted in his conceptual plans. "It recalls the great wisdom that teachers describe when speaking of the un-manifested. One can feel this domain in quantum physics when atomic particles can be observed disappearing and reappearing."
For six days, OCU students will work as museum preparators installing the artwork alongside the acclaimed artist. Students will also learn other aspects about how to host a professional art exhibit.
Hackenwerth has done installations at the Guggenheim Museum in New York City and the Victoria and Albert Museum in London, among other prominent galleries around the world. He received his MFA in painting from Savannah College of Art and Design in 2010 and Bachelor of Fine Art in printmaking from Webster University in 1997. Learn more about the artist at jasonhackenwerth.com.
For more information about the OCU gallery or the "Realm" exhibit, visit okcu.edu/artsci/departments/visualart.