Herman Meinders makes $3 million gift to business school
Posted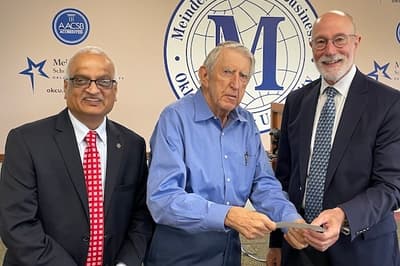 The namesake of Oklahoma City University's business school has pledged a $3 million gift to the university to develop and launch a series of STEM-related degree programs, among several other initiatives.
The gift from OCU alumnus Herman Meinders was announced Thursday during a luncheon of the Advisory Board of the Meinders School of Business. The funds will be used by the business school to launch master's degree programs in financial analytics, health care analytics and energy analytics, as well as undergraduate minors in data analytics and financial analytics.
"Once again Herman Meinders has shown his dedication to making Oklahoma City University the state's preeminent institution for business education," OCU President Kenneth Evans said. "This generous gift will allow OCU to deliver cutting-edge degree programs that can better prepare graduates for the ever-evolving business landscape."
The gift is just the latest in Meinders' long legacy of giving to OCU. The Meinders School of Business building was opened in 2004 thanks to an $18 million gift from Meinders, long recognized as an Oklahoma business icon and renowned philanthropist.
"I always encourage OCU students, alumni and supporters to work hard, do good, and set an example for those who come after," Meinders said. "I hope this gift can create a new generation of OCU students who can follow this example and eventually show their support for our university."
A portion of Meinders' gift will also be used to help develop community and corporate partnerships, including advancement of business literacy for high school students and promotion of women in leadership.
Meinders School of Business Dean Sri Beldona said the gift will have the potential to elevate the business community in the state by helping develop a bigger pool of talented job candidates.
"Preparing students to tackle the challenges of our advancing business world through cutting-edge STEM degree programs can only benefit business and corporations here in Oklahoma," Beldona said. "This initiative can make a significant impact on talent development and skills-gap issues among our local business community.
"I am also excited that this gift will enable and empower faculty who are producing high-quality research."
The university aims to launch its new business degree programs in time for the fall 2023 semester. More information about the Meinders School of Business is available at www.okcu.edu/business.