Law Dean Plans Move to Classroom
Posted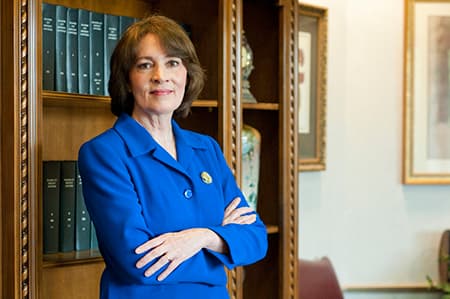 "To say that time flies would understate the warp speed of my experience at OCU Law," Couch said. "These years have formed the most captivating, compelling and rewarding chapter of my career."
Couch has served as dean at the School of Law for five years.
"I have appreciated Dean Couch's leadership," said President Robert Henry. "She presided as dean over a momentous time in the history of the Oklahoma City University School of Law."
During Couch's tenure, the school moved downtown to its historic building as well as launched the Murrah Center for Homeland Security Law and the Norick Municipal Law Research Clinic.
Oklahoma City University Law Library Director Lee Peoples has been appointed to serve as interim dean effective July 1. Law Professor Paula Dalley will assume the position of associate dean, succeeding Eric Laity, who will return to the OCU Law faculty.
The university will appoint a search committee this summer to conduct a nationwide search for the next dean, co-chaired by Board of Trustees Vice Chairman Gary Homsey and Law Professor Art LeFrancois. The committee will include university trustees, faculty members and members of the Oklahoma City community.
Henry said he looks forward to continued momentum at the School of Law. "The move downtown has enhanced opportunities for our students, and has strengthened our partnerships within the legal and business communities," Henry said. "We will continue to build on our bright future."