OCU appoints new police chief
Posted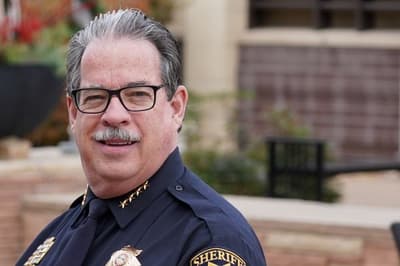 Oklahoma City University has hired Tony Spurlock as chief of the campus police department. Spurlock will take leadership of the OCU Police Department (OCUPD) on March 13.
Spurlock served the Douglas County, Colorado, community for 43 years, the past eight years as sheriff, before retiring in January. Castle Rock, south of Denver, is the county seat of Douglas County.
"Tony's experience, professionalism and continuous advancement in law enforcement make him an outstanding candidate to lead the police department here at Oklahoma City University," said Kevan Buck, OCU's chief financial officer.
Spurlock worked his way up from lieutenant to captain, then division chief to undersheriff before his election to sheriff of Douglas County. He has experience as an investigative detective and a patrol sergeant. Spurlock has taught criminal justice at the college level, has led law enforcement training academies and has been a legislative liaison for the department.
Spurlock was the co-founder and chair of the Unified Metropolitan Forensic Crime Lab, chair of the Rocky Mountain Regional Computer Forensics Laboratory, vice-chair of the executive board of Colorado Peace Officer Standards & Training, and served on the legislative committee for Colorado Human Trafficking. Spurlock attended Metro State University and is an FBI National Academy Graduate, 207th session.
"I am excited for this next chapter in my law enforcement career," Spurlock said. "Me and my wife, an Oklahoman, have been visiting the state for the past 25 years and are looking forward to joining the OCU and Oklahoma City communities."
The OCUPD is charged with providing around-the-clock security and emergency response for the main and law school campuses. Along with enforcing Oklahoma's state laws, the department also enforces campus parking rules, provides safety escorts and motorist assistance, and maintains security records. Officers work in a collaborative fashion with local law enforcement agencies including the Oklahoma City Police Department and Oklahoma County Sheriff's Office.