OCU Dedicates Renovated Chemistry Labs
Posted
by Rod Jones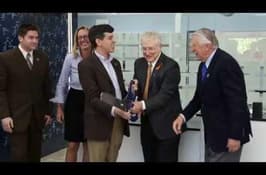 Oklahoma City University held a ceremony Oct. 28 to officially open its newly renovated chemistry labs.
The celebration included science demonstrations by chemistry majors, a formal recognition of donors and a ribbon cutting to officially open the 7,400-square-foot space.
OCU raised money for a $2.2 million renovation of three adjacent labs that took place over the summer. The labs include the most modern amenities available for science and are designed to promote continuity between classroom and lab learning experiences.
Chemistry professors worked with architects and engineers to design the labs.
"Students collaborate a lot in our courses," said Stephen Prilliman, chairman of the Chemistry Department. "They're not just experimenting now. They're learning how to be scientists, and the new facilities are going to help them do that."
University officials are hoping the new labs will help recruit the brightest science students in the world to help continue successes from recent times and from the distant past. In the past two years, 90 percent of science students from OCU have been accepted into the professional school of their choice. In 1944, OCU alumnus Leon O. Morgan was one of the scientists who co-discovered Americium, the element with the atomic number 95 on the periodic table. Americium is used in household smoke detectors.
Prilliman said the renovated labs would help his faculty and students continue advancements in chemistry.
"We are ecstatic about this space, the students are ecstatic about this space," Prilliman said. "They will tell you how much better it is now than it was before. The number of people who said 'wow' when they walk in, the number of people who come by and take pictures is really gratifying."
Watch a video of the ceremony here: